Boldly designed. Beautifully made. Furniture for life.
When our founding designer took on a major renovation project to extend his home and design a state-of-the-art kitchen, he knew the dining table would be the focal point.
He had a clear vision of what he wanted. It had to be unique. It had to be bold. He wanted something that would add warmth and drama to what was a contemporary and streamlined environment. Plus it had to be big enough to seat his extended family.
"I wanted something we could put hot plates on, where the kids could sit to draw and do homework. Somewhere that didn't need to be constantly cleaned and a table we were not worried about marking or using coasters on. I spent days scouring the internet looking at bog standard wooden tables, getting more and more frustrated."
So nothing was big enough and everything felt 'samey' and all one material, mainly just wood tops and wood frames.
A sketch became a full brief with 3D visuals and a presentation pack. A prototype was then delivered and that's when his friends said things like 'oooh' and 'aaah'. He knew he had then hit on something which people liked the look of and wanted themselves.
And so began Mac&Wood.
"I don't think people are used to interacting with such a natural product."
He worked hard to hone the idea – and Mac&Wood was born.
"I had to learn everything I could about wood and steel," he said. "I had to find out how to treat the wood to make sure it retained its character but was smooth to the touch. There's not much I don't know about box steel sections and wood moisture content now."
He built a website and filled it with photos and got his first order – from an interior designer.
In his first year he made 25 tables. In his second, he made 60.
Mac&Wood now also get orders for benches, desks, coffee tables and even tables for boardrooms – all designed in-house and based around the wood and steel ideas he started the business with.
"There are different sizes, measurements and finishes," he said. "But these are statement pieces of furniture so are large by nature."
Larger tables are a lot more difficult to find, especially off the high street. But Mac&Wood tables can seat 10, 12, 14 or 16 people.
"They work for people – like us – with kitchens where they love to entertain and often feed large parties of friends and family."
Mac&Wood furniture is all made to order.
We send out a chunky samples of the wood to prospective customers and our wood comes from all sorts of places including barns, piers, and demolition sites.
"We hand pick the reclaimed wood we use for its character and quality, we then de-nail and finish the wood making with a process we've refined to ensure the character of the wood is retained while making it 'family friendly'.
Our furniture is beautifully made and unique to everyone."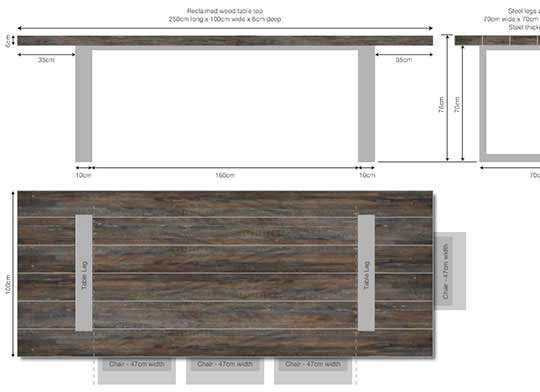 Make your enquiry
To make an enquiry or place an order call us on 020 3773 1430 or use our enquiry form below and we'll get right back to you
Mac&Wood are pleased to have featured in: