Beautifully handmade to order,
extremely hard wearing
Free delivery & installation,
anywhere in the UK
Request a sample,
use the form
Deliciously striking, copper dining tables.
We love to create furniture that makes an impact, and nothing will make an impact on your guests quite like a copper dining tables. Available in a range of sizes, designs and finishes, these tables will add a modern style statement to your dining room.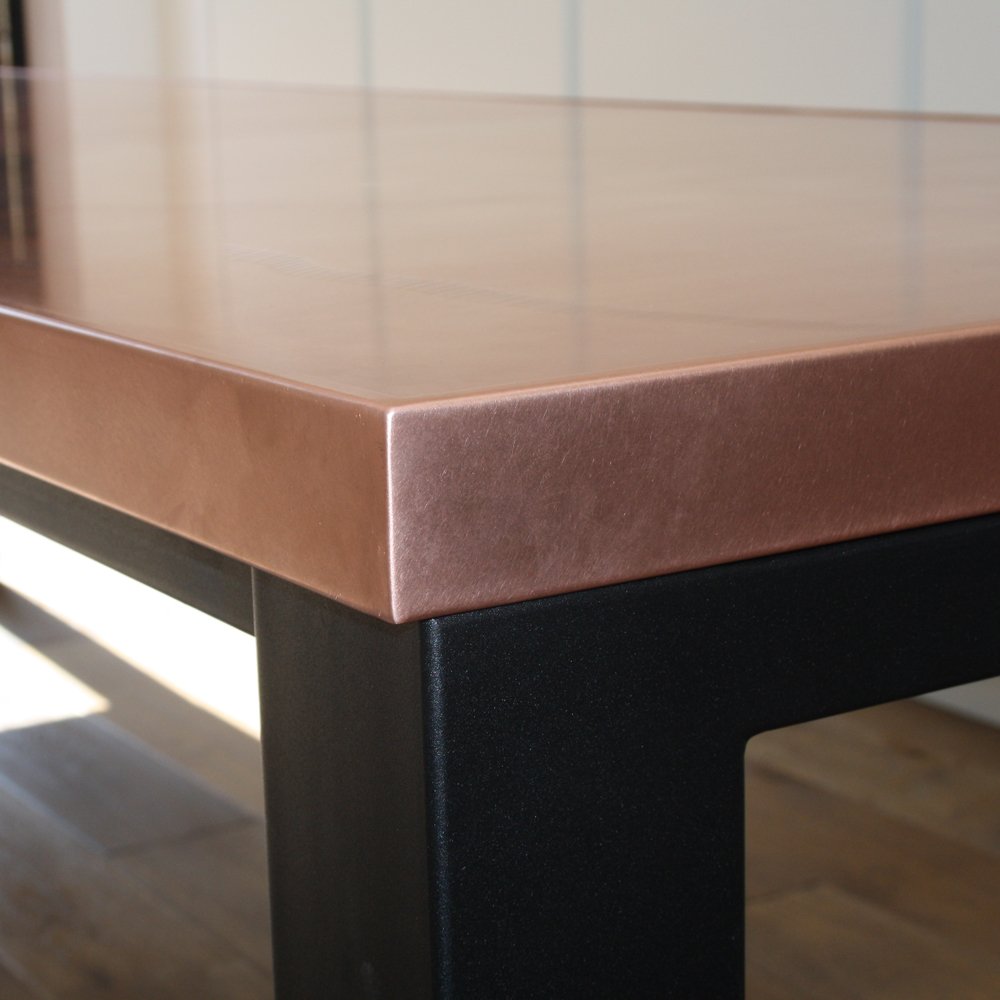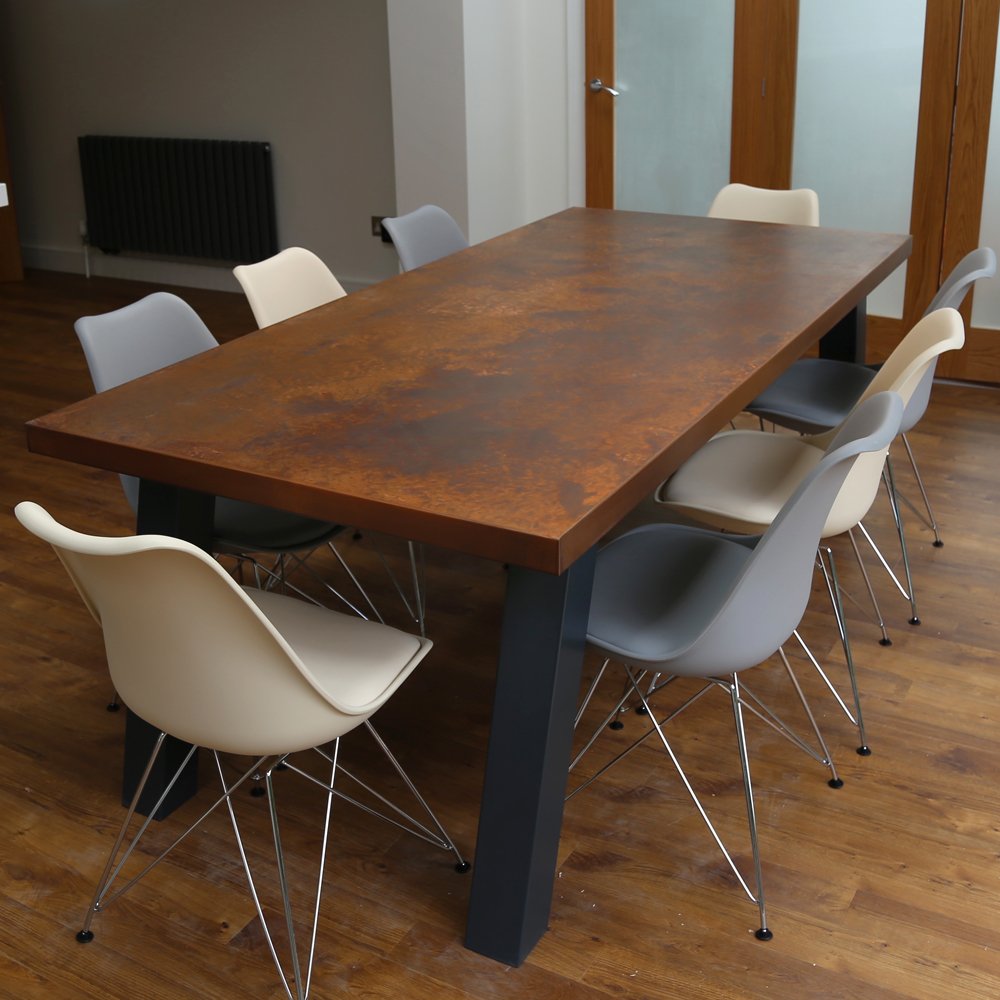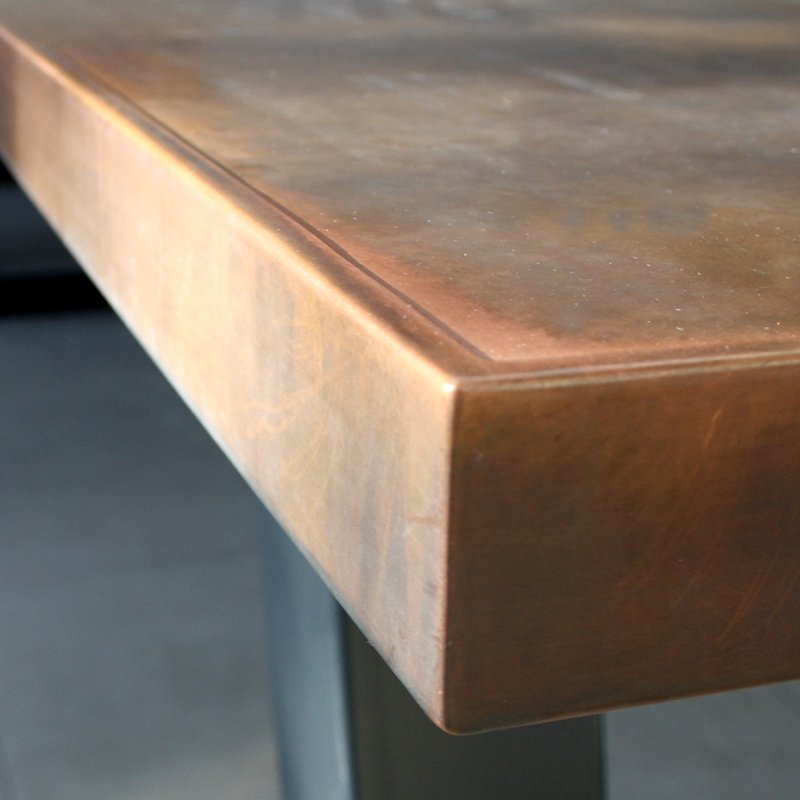 Finishes for every occasion
Our copper dining tables come in four stunning finishes: natural, aged, distressed and bronzed. Each finish will add something unique to your table – a shining, almost transcendent natural copper? A swirling, shifting distressed copper? Or a deep, resonant, matte bronzed finish? All these finishes provide you with an incredibly sturdy, stain-proof, burn-proof and rust-proof surface. Tell us what finish you'd like for your copper dining table and we'll make it happen. For maximum impact, pair your table with matching side and end benches.
Discover more about our range of finishes by clicking here.
Available in a range of sizes
Each dining table we make is hand-crafted from the finest materials. Our treated copper is virtually impervious to damage (at least, you'd have to try really, really hard to hurt it) and is made to fit your particular room requirements, whether that's small or large. When you make your order, simply specify which size you'd like and we'll get to work creating your perfect dining table.
If you require a bespoke size please contact us using the enquiry form below.
| | | | | | | |
| --- | --- | --- | --- | --- | --- | --- |
| | Size (L x W) | Number of places | Natural | Aged | Distressed | Bronzed |
| 6+ | 180cm x 90cm | 6 to 8 guests | £POA | £POA | £POA | £POA |
| 8+ | 210cm x 90cm | 8 to 10 guests | £POA | £POA | £POA | £POA |
| 10+ | 250cm x 90cm | 10 to 12 guests | £POA | £POA | £POA | £POA |
| 12+ | 285cm x 90cm | 12 to 14 guests | £POA | £POA | £POA | £POA |
For pricing in a finish not listed, or if you require a bespoke size, please contact us using the form below.
Make an enquiry or place your order for a copper table
To place an order call us on 020 3773 1430 or use our simple form below.