Our hardwood, Character Oak table tops are the pinnacle of understated, beautifully warm rustic design.
Oak is a beautiful wood for crafting distinctive, characterful furniture. It's reliable, hard-wearing, long-lasting and comes with a rich heritage of use in English houses. Oak brings a presence to your room that no other wood can match.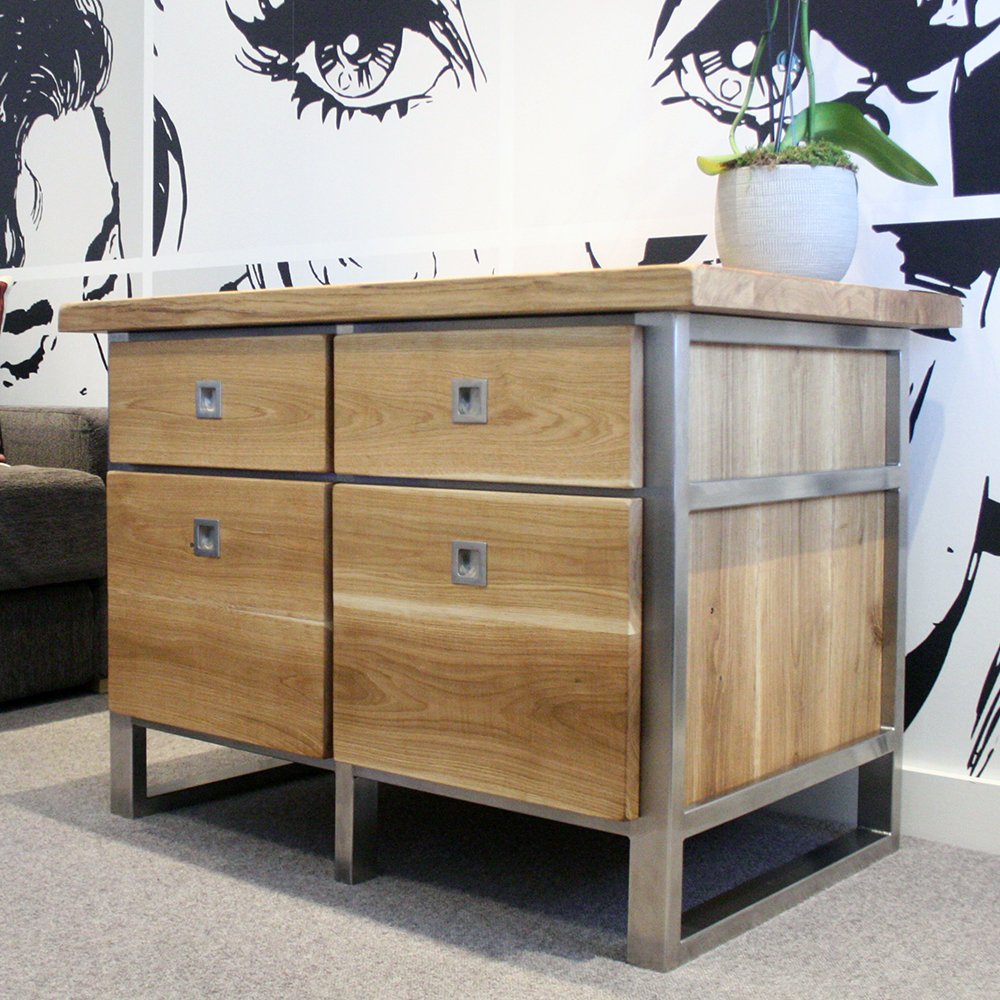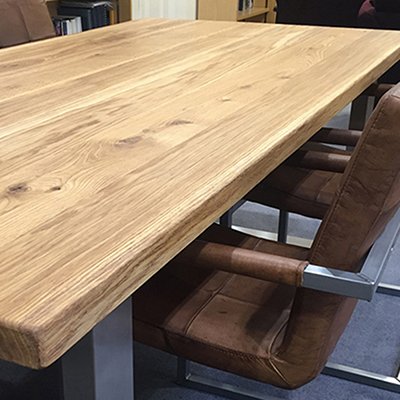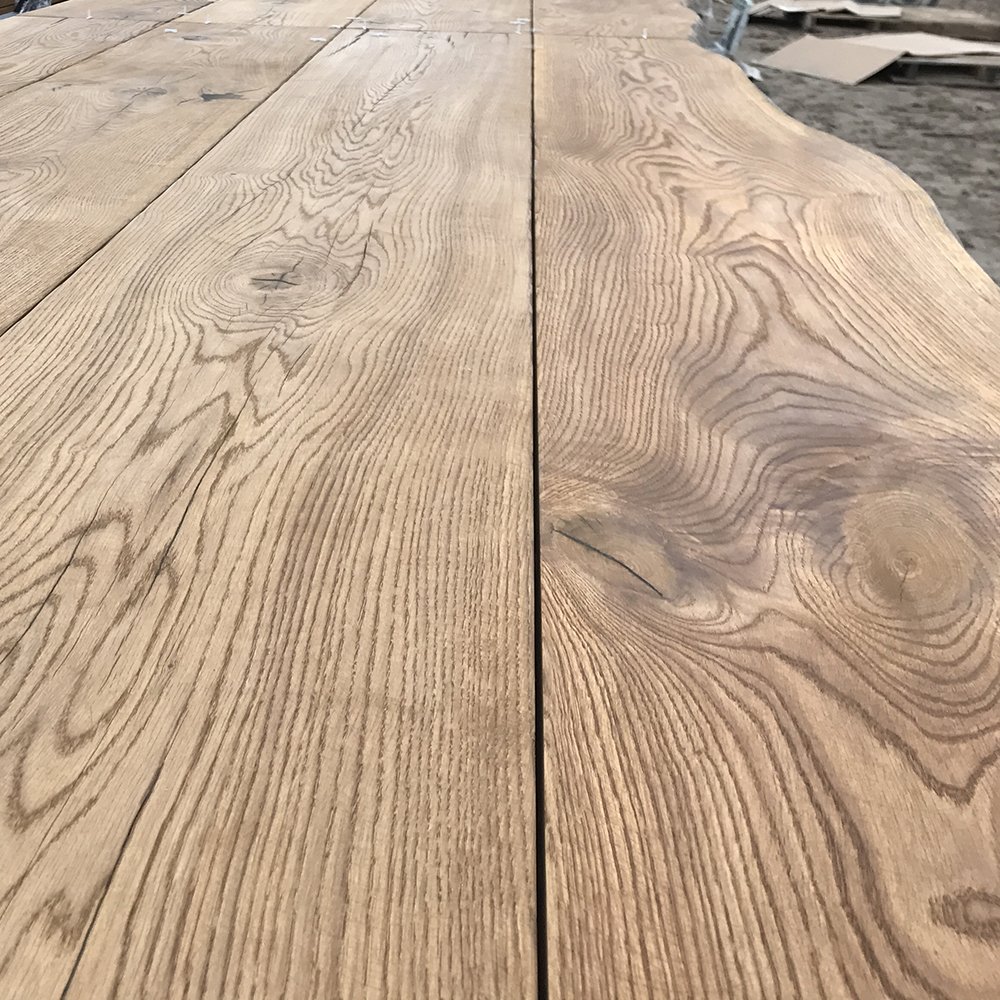 Start with the finish
If you are looking to make a statement in your home or office, our Oak finish tables are ready to impress. Seating 6 to 14 people, they are perfect for your room, whatever the size.
Discover more about our range of finishes by clicking here.
With over 400 known species, Oak has been the workhorse of furniture construction for centuries and has become synonymous with a gold standard of craftsmanship across all types of furniture. It's a popular wood for table-making due to the range of different tones and characters that can be obtained from the varying types of Oak, dependant on how the wood is treated. When used correctly, Oak never fails to fill a room with its characteristic rustic warmth.
Oak has a deep, rugged character that is tamed and tempered by skilled workmanship and attention to surface detail. Whether oiled, stained or polished, Oak's grain is thick, varied and full of life. Its cracks and knots create immediately distinguishable patterns that will be different on every surface, giving you a timeless table brimming with rustic character that you'll never tire of.
Why oak?
Oak is known for its strength and durability which is why we've chosen it as one of the materials we use to make our tables. Whether you want to accommodate books, family meals, computers or televisions, the oak we use in Mac+Wood tables won't just last for years, it'll last generations. Resistant to surface stains and scratches due to its density and already rich character, it's appropriate for families, individuals and public spaces alike.
Brimming with character
The oak we use in our Mac&Wood designs is Character Oak. Defined by its beautiful imperfections and coupled with our sleek metal frames, it's the perfect addition to modern and classically-decorated spaces alike. Oak is strong, durable and comes with the gravitas of heritage and tradition, making it the perfect partner and counterpoint to our distinctive polished, brushed or coated steel frames.
5 facts about oak
Organic protection
The word tannin comes from 'tanna', an Old High German word for oak or fir tree, and refers to the use of wood tannins from oak in tanning animal hides into leather. Hence the words 'tan' and 'tanning' for the treatment of leather. Tannins naturally protect wood from bugs and bacteria.
Naturally durable
Oak is a great non-toxic option for use in children's playgrounds and school landscaping as it weathers exceedingly well without the need for additional chemical preservatives.
Acorns
Oak trees start to produce acorns when they reach the age of 20-40 years, depending on the variety. Each tree will produce around 2,000 acorns each year, but only one in 10,000 acorns will go on to produce an oak tree – not due to any failure in the acorn, but because so many animals eat them!
Size
The tallest oak tree in the UK is a 200-year-old specimen in the National Trust Stourhead estate in Wiltshire, which was measured at 132.5ft (40.4m). Oak trees are generally large and often require a lot of water, sometimes absorbing 50 gallons each day.
Longevity
An oak tree's usual lifespan is around 200 years, but some live for over 1,000 years. In 2016, experts from the Ancient Tree Forum estimated a huge oak tree in the grounds of Blenheim Palace to be 1,046 years old. In 2013, a 1,200-year-old Welsh oak was unfortunately blown down by high winds.
We're ready answer any enquiries you might have about our Oak furniture
To place an order call us on 020 3773 1430 or use our simple form below.