Available in natural, aged, distressed or bronze finishes, prices from £2,850.
Copper creates a bold centrepiece, a modern design statement and the perfect place to eat, meet and share good times. Available in 4 distinct finishes, it looks incredible on a brushed stainless or colour powder-coated steel frame.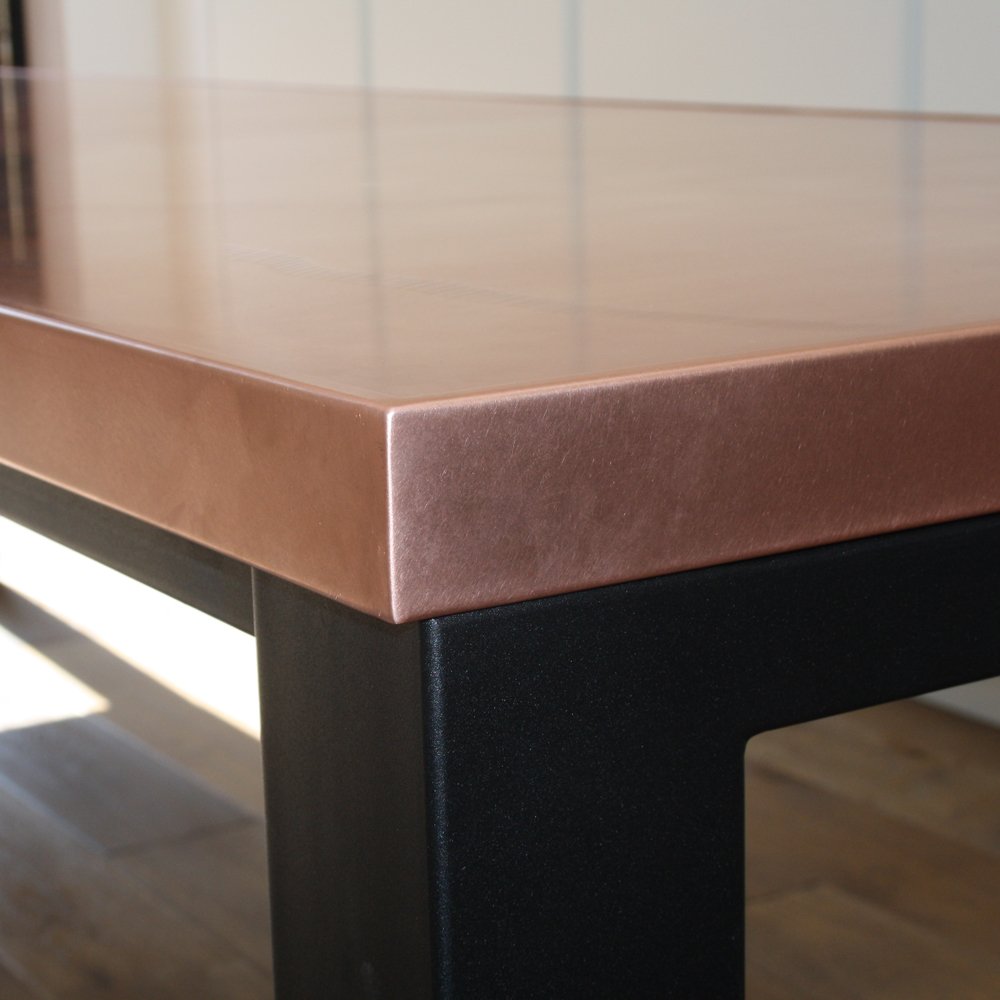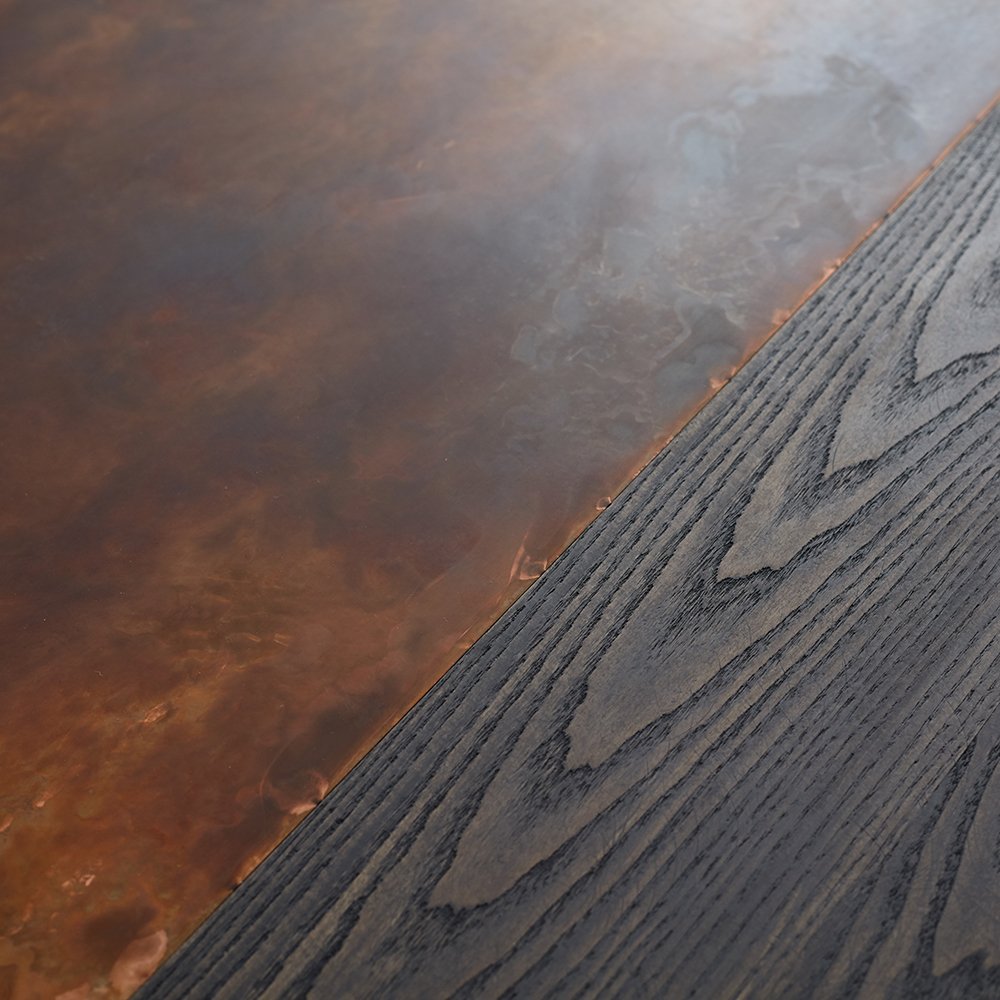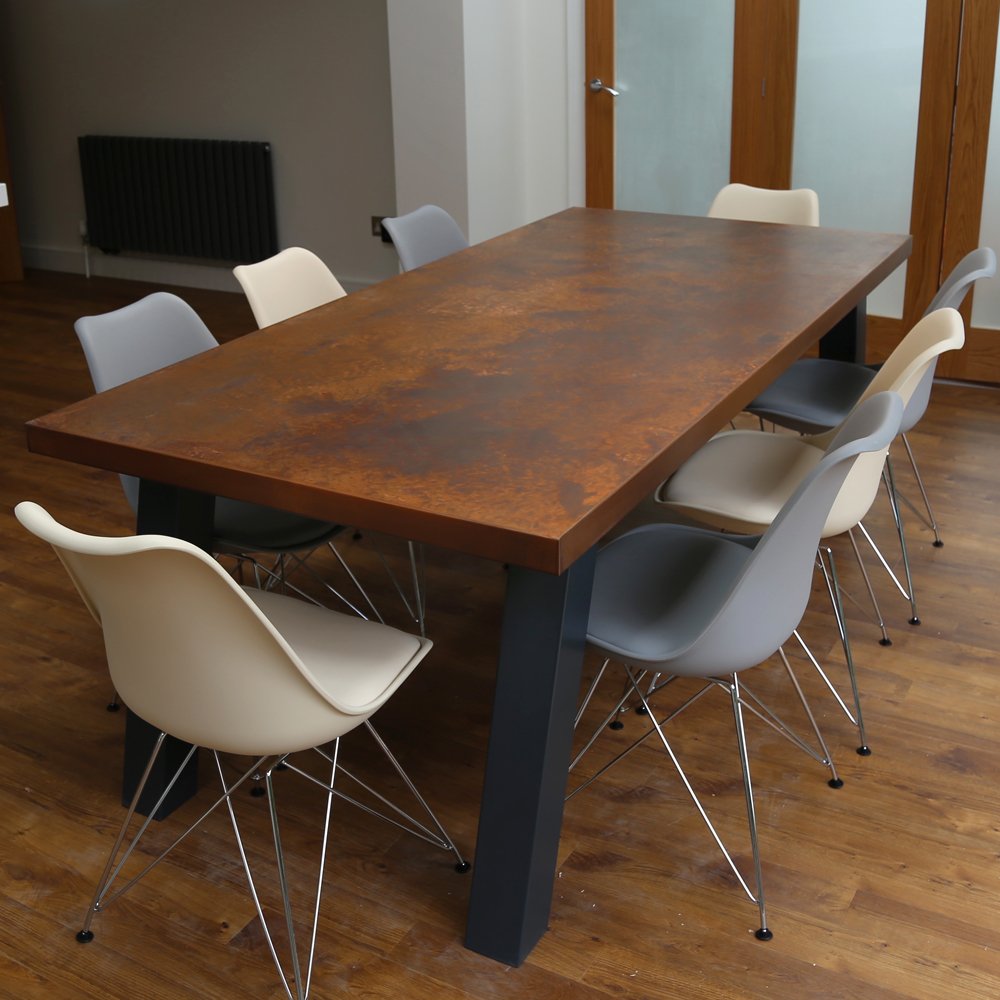 Choose the right finish
If you are looking to make a statement in your home or office, our Copper finishes are ready to impress. Seating 6 to 14 people, they are perfect for sophisticated rooms of all sizes.
Our copper finished tops are available in aged (shown), distressed, natural and bronze.
Discover more about our range of finishes by clicking here.
The right size for you and your guests
There is nothing worse than clashing elbows and underhand fighting for space at the kitchen table. Which is why each of our tables has been designed to ensure that every person sat around it gets the right amount of space and truly enjoys the experience.
Seating from 6 and up to 14, our reclaimed wood kitchen tables are perfect for family breakfasts, a dinner with friends, or a banquet where you really want to impress.
If you require a bespoke size please contact us using the enquiry form below.
| | | | | | | |
| --- | --- | --- | --- | --- | --- | --- |
| | Size (L x W) | Number of places | Natural | Aged | Distressed | Bronzed |
| 6+ | 180cm x 90cm | 6 to 8 guests | £POA | £POA | £POA | £POA |
| 8+ | 210cm x 90cm | 8 to 10 guests | £POA | £POA | £POA | £POA |
| 10+ | 250cm x 90cm | 10 to 12 guests | £POA | £POA | £POA | £POA |
| 12+ | 285cm x 90cm | 12 to 14 guests | £POA | £POA | £POA | £POA |
For pricing in a finish not listed, or if you require a bespoke size, please contact us using the form below.
There are very few materials that are known to have been used by man longer than copper. Dating back to prehistoric times, copper has been a primary driving force in our manufacturing evolution. So important was it in fact that one of the major 'ages' in human history is named after a copper alloy: bronze.
Copper brings real strength to any surface, its rich hue deepening the colour scheme of any room. Your copper finish is not going to fade away anytime soon – it truly is a material of lasting power. Antique copper finishes have been found in estates that are centuries old, with great tales of history behind them. You'll understand the reason why copper covered the furniture of lords and royalty when you see its intense glean and feel the power and life that emanates from its surface.
Why use copper finishes?
The versatility of copper finishes allows for decades of use without wear. Aside from being great to look at, a copper finish stands out for its natural bacteria-fighting properties, making it ideal for a kitchen or a dining surface. Copper can provide a deep, rich hue to your room and quickly becomes the focal point of attention, making it an exciting piece of furniture.
Whether you are entertaining guests in the dining room, or closing deals in the boardroom, a copper finish provides a talking point. Everyone will have an opinion about your furniture.
Copper for a lifetime
Copper is the ultimate in furniture finishes. Our copper finishes are designed to be unique, durable, practical and to build a lifetime of memories. You can be sure they'll outlast any trend and provide an enchanting talking point, whichever room you decide to position our furniture in. No matter if it's for coffee or dinner, copper brings individuality, history and sleek design.
Our copper finish options include natural, aged and distressed, providing a fantastic look that stands out to the eye. We pride ourselves on our workmanship and design quality. When it comes to delivering you the perfect copper finish, we will get the job done right the first time.
5 facts about copper
Native
There very few metals that man currently uses, that are found in their natural or native state. Copper is one of these metals and that's the reason it has been utilised by man for so long.
Conductor
Copper is highly prized today because of its conductivity. It's used in all sorts of modern technology that you find in homes today, as well as high-end kitchenware.
Heat Resistant
Pure copper's melting point is 1082° Celsius which makes it incredibly heat resistant. Its most important properties include superior heat transfer, electrical conductivity and corrosion resistance.
Turbines
Copper is helping in many ways to reduce our 'footprint' on this earth. One of these ways is through wind turbines. Did you know that a single 3MW wind turbine contains 4.7 tons or 9,400 pounds of copper?
Consumption
There are only two other materials that are consumed more by Americans, and they are Iron and Aluminium. Copper is in a solid 3rd place – that shows our fascination with this incredible natural material.
Considering purchasing a copper finish today, make an enquiry
To place an order call us on 020 3773 1430 or use our simple form below.