Natural Zinc and Patina Zinc furniture
Zinc surfaces allow you to be both ethical and healthy.
The latest addition in our range of magnificent table tops for your home and office is our zinc table top. These are truly wonderful products to behold, crafted by our team to the highest quality standards. Our zinc table top will fit beautifully into your home or office.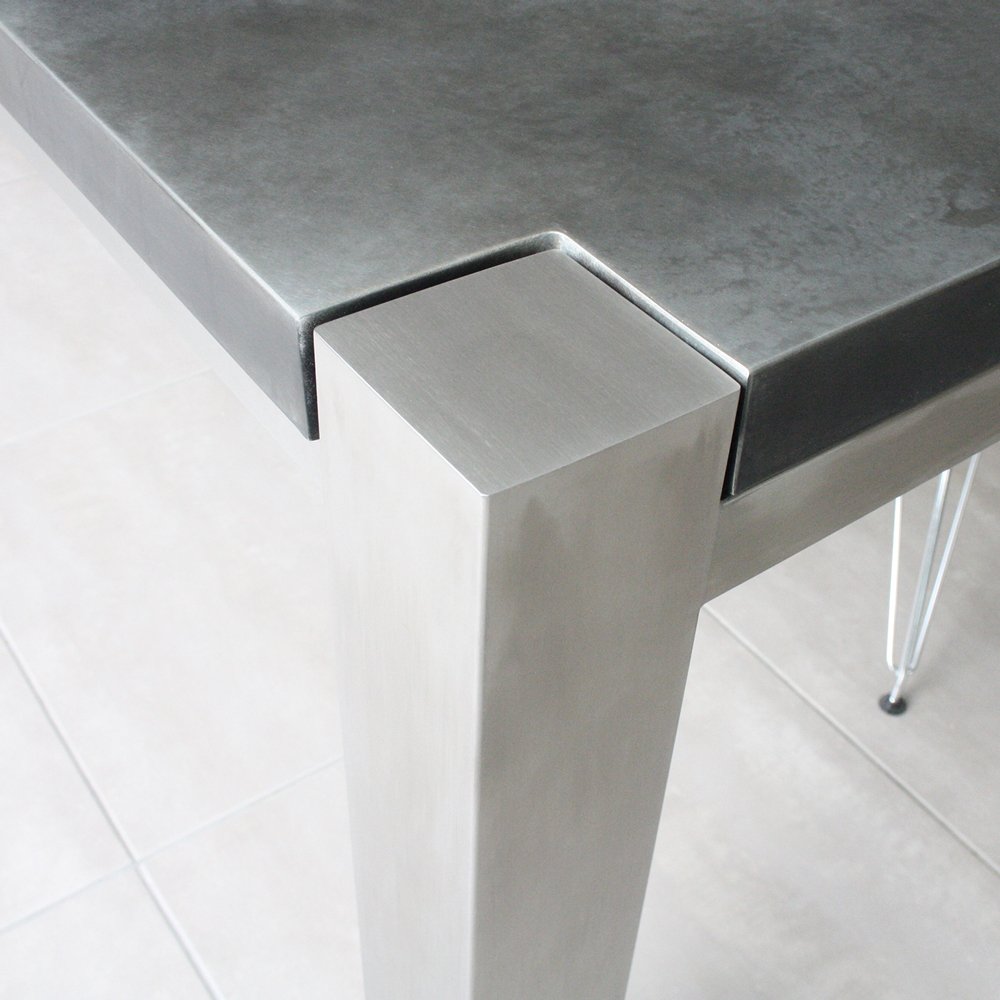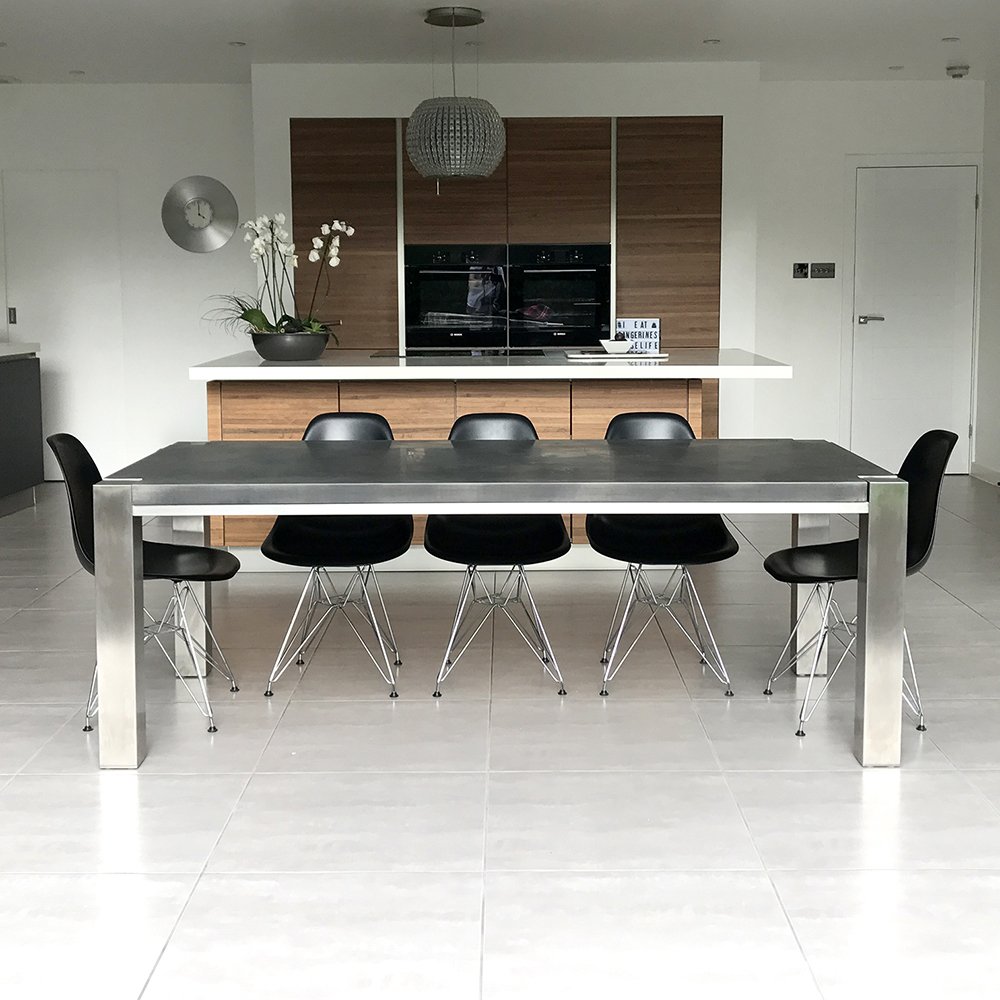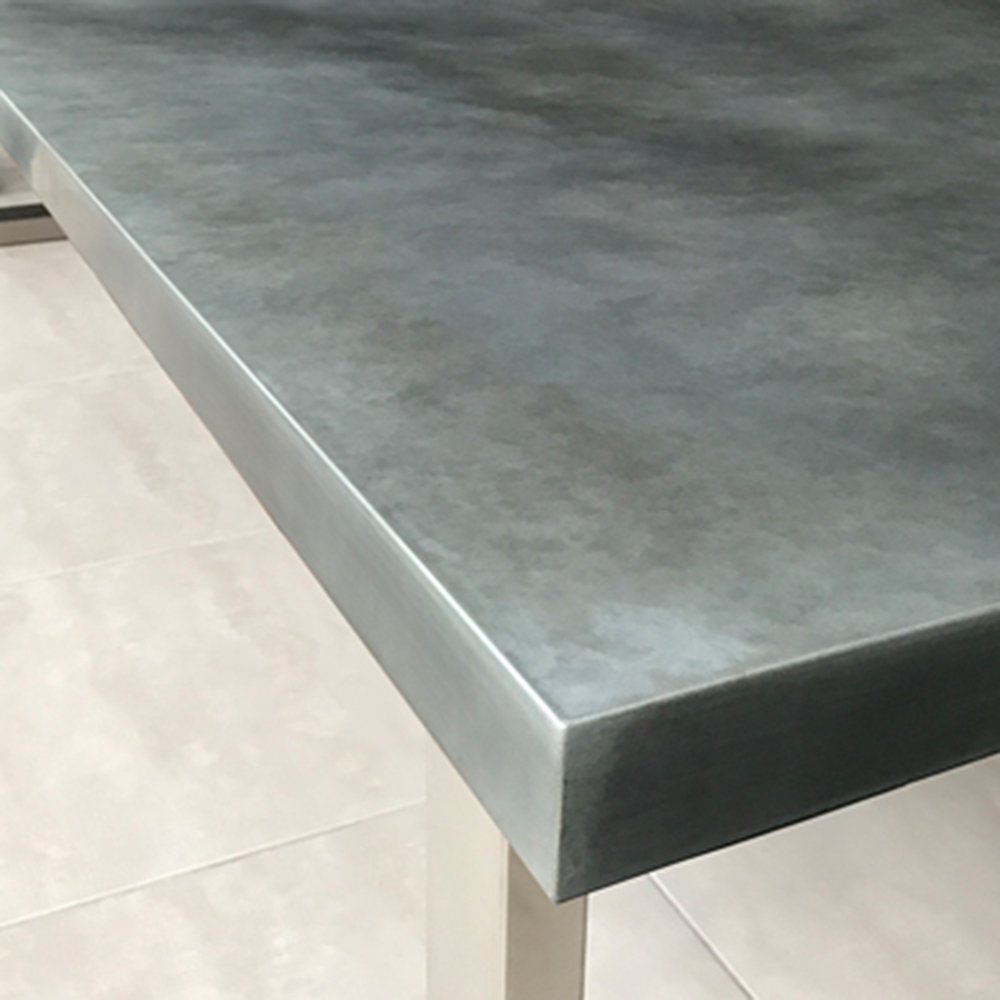 Start with the finish
If you are looking to make a statement in your home or office, our Zinc finish tables are ready to impress. Seating 6 to 14 people, they are perfect for your room, whatever the size. Our Zinc finished tops are available in 2 finishes: Natural Zinc or Patina.
Discover more about our range of finishes by clicking here.
Zinc is an element that can literally be found all around us – in our bodies, our food and of course in the ground. It's very important for human survival, as it helps control our digestive and immune systems which contain over three hundred different enzymes. Zinc is an astoundingly durable element and when used for table tops it provides a surface that is tough and sleek by design.
Zinc is one material that we absolutely love. It creates a beautiful table top material that is very family-friendly, will last forever and add a real talking point to your home. You can choose either a refined or weathered look with our Natural Zinc or Patina finishes. Both are incredibly easy to maintain due to zinc's natural durability, and need only a wipe down when cleaning.
Natural Zinc has a polished, gleaming finish. It tends to age beautifully, acquiring different hues and patterning across the surface over time.
The Patina finish is already weathered and ready to be further characterised through your own use for a gorgeous lived-in look.
Why Zinc?
Incredibly, a zinc table top appears to naturally adjust its colour to the lighting conditions in a room. Your table top will almost appear to 'morph' from one hue to another, giving the room a unique feel every time you enter it.
Zinc is also a material that 'wears in' over time, meaning your table top will naturally gain new hues and personal nuances through use. Such tones are called a 'platina'. You can let a platina develop over time or, if you would prefer not to wait, we can produce your zinc table top 'pre-weathered' with light or dark patinas – this is an incredibly popular option.
Zinc is stain-resistant, with usual maintenance being simply a stiff wipe down with slightly soapy water. It won't break your arm when it comes to keeping it clean. Any tougher stains, say from a wine glass ring, can be easily buffed out.
Zinc and the environment
Zinc is mined in a very energy efficient manner. With almost 30% of the world's zinc stockpile coming from recycled sources, zinc is the green homeowner's material of choice. So, you can sleep better knowing that you are doing your bit to make your home or office a bit 'greener' by purchasing a zinc table top.
Striking designs and finishes
If you're looking for strikingly elegant design coupled with a gorgeous metal finish, then look no further. Our zinc tables are the modern cousins of the Mac+Wood Copper Tables range, sleek and lustrous by nature, and available in 2 finishes: Natural Zinc or Patina.
Our zinc table tops are available in any of the Mac+Wood designs, handmade to order with bespoke sizing options, and look fantastic on either a brushed stainless or powder-coated steel frame. Zinc is by far the most durable material we use in any of our tables and is effortless to maintain. The perfect centrepiece for the modern home or business space.
5 facts about Zinc:
Recycling
Zinc is the 24th most abundant element on the planet. Almost 30% of zinc production comes from recycling it, with over 2 million tons of zinc recycled every year. It can be recycled again and again without losing any of its properties, meaning it can be perpetually re-used, consuming much less energy and resources than mining it normally.
It's everywhere
Zinc is a natural element found in every cell of your body, in the earth, in products we consume and the food we eat. Every cell requires zinc to multiply; it's essential for healthy skin and indeed life itself – your body requires zinc to make new white blood cells. Zinc, its oxide, and other compounds are found in batteries, sunscreen, paints, and other products.
Zinc industry
The single largest world use for zinc is in the protection of steel against atmospheric corrosion. The next-largest world use for zinc is as a die-casting alloy; in the US, this use ranks above steel-coating.
Historical
Zinc has been in use by artists and craftsmen for thousands of years. Smelting of zinc had been practiced in India since the 9th century B.C. As zinc is so malleable, it was a top choice for sculpting and decorative metalwork. Before zinc was recognized as a distinct element, zinc ores were used for making brass (a mixture of copper and zinc). An alloy containing 87 percent zinc was found in prehistoric ruins in Transylvania.
The science
The English metallurgist William Champion patented the process for isolating zinc in 1738, but German chemist Andreas Sigismund Marggraf was credited with isolating zinc in its purest metallic form in 1746. (He also discovered beet sugar in 1747, revolutionising the sugar industry, but that's another story). Of all the metals, zinc has the lowest melting point at 419.5 degrees Celsius.
We're ready answer any questions you have about our Zinc table tops.
To place an order call us on 020 3773 1430 or use our simple form below.