If you like to follow the latest trends and like the idea of having a piece of high quality design furniture in your home while being useful to the environment, then a reclaimed wood table top is the choice for you.
Our reclaimed wood comes in four finishes as seen opposite. The wood is cleaned and made 'family-friendly' which means it is de-nailed and any aspects of the wood that can cause a splinter or 'catch' are removed, all whilst retaining as much of the character of the wood as possible.
We construct our tops from single beams to a maximum depth of 5cm and our tops are finished with a highly protective hard-wax oil giving it the required protection needed for heavy use and busy environment.
Reclaimed wood tops, made to order
4 gorgeous finishes – Raw, Brown, Dark & Grey
All furniture is made family-friendly, level and smooth to touch
Sturdy construction, sizes from 1.5m to 3.5m long from single beams
Bespoke options available on request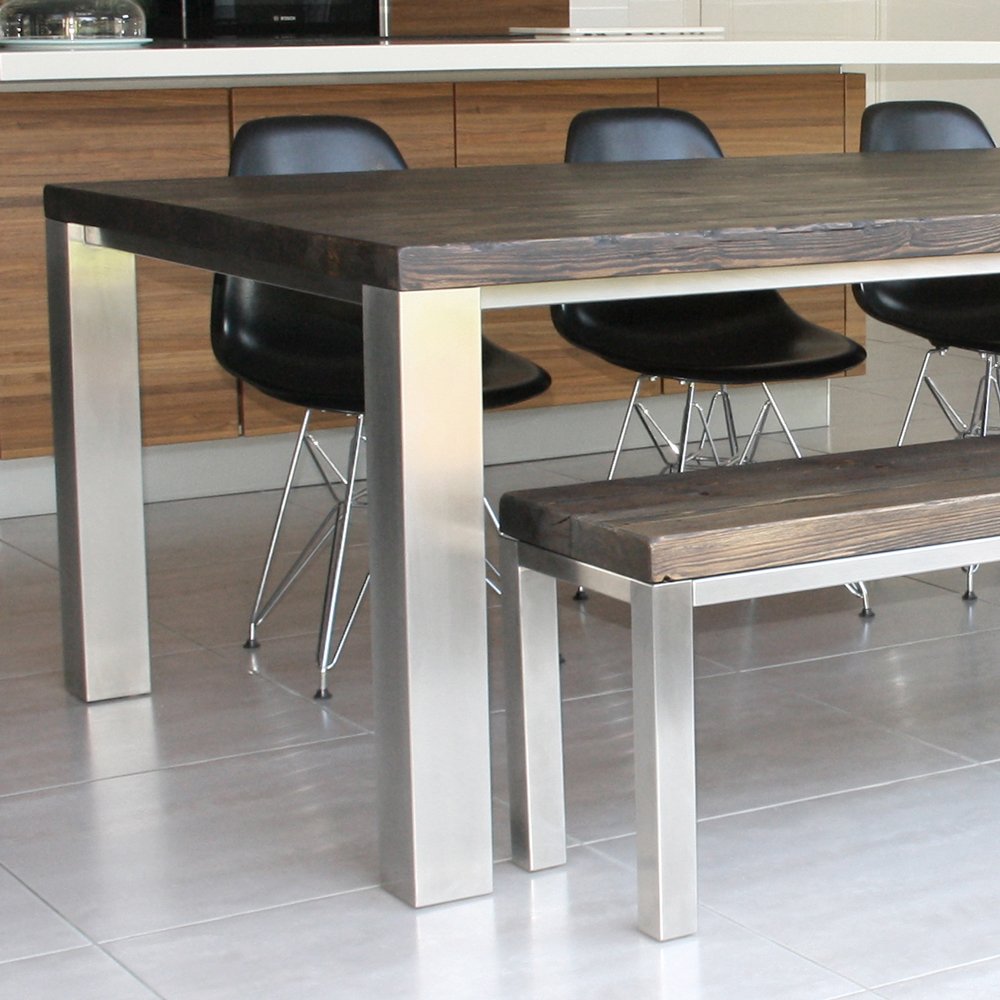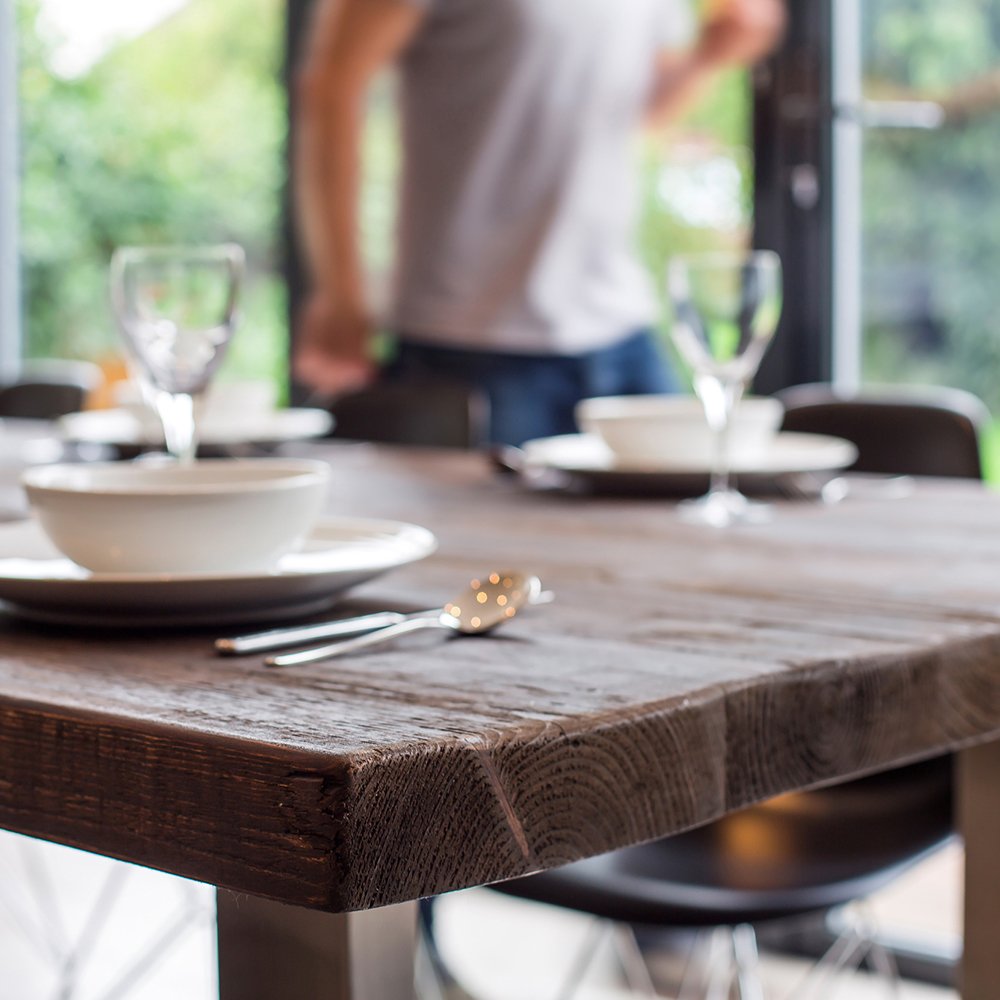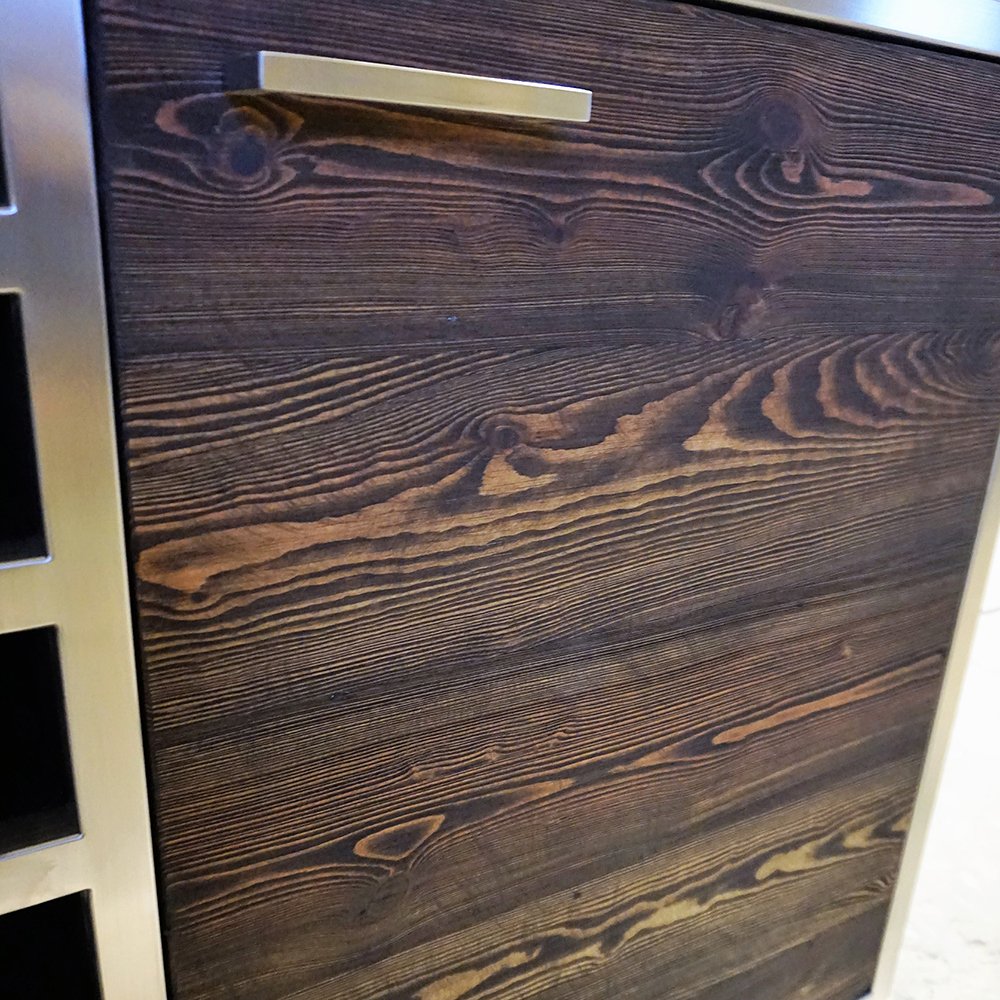 What is Reclaimed Wood?
Reclaimed wood is wood that was previously used in the building of another structure which, when disassembled, is recycled and used in a new building. This is particularly common when large, wooden beams are used, and are transplanted from a building into another.
Please note: Reclaimed wood is a living and breathing item and will expand and contract based on its environment and the seasonal temperature. We ensure the wood is dried to within acceptable manufacturing standards, and moisture content, and our table top construction allows for a degree of movement in the tops and works well in very dry conditions, for example underfloor heating. Further characterisation can occur over time and, in our mind this is part of the beauty of using reclaimed wood in our furniture designs.
There's mystery in its history
Reclaimed wood is steeped in history and character. At Mac&Wood, the timber we use is normally pine and sourced ourselves – from a multitude of different places.
In another life, one of our reclaimed wood table tops could have been an old garden shed, decking or worn wooden flooring. It could have formed part of an old seaside pier, a building of historical significance or the pews of an ancient church.
We take wood that would otherwise have ended up on the bonfire or scrap heap and turn it into a beautiful, bespoke table top
Perfect imperfections
Every knot, scratch and gnarl in the wood adds beauty and character. This is what defines the 'weathered' style and how it makes an impact on your home.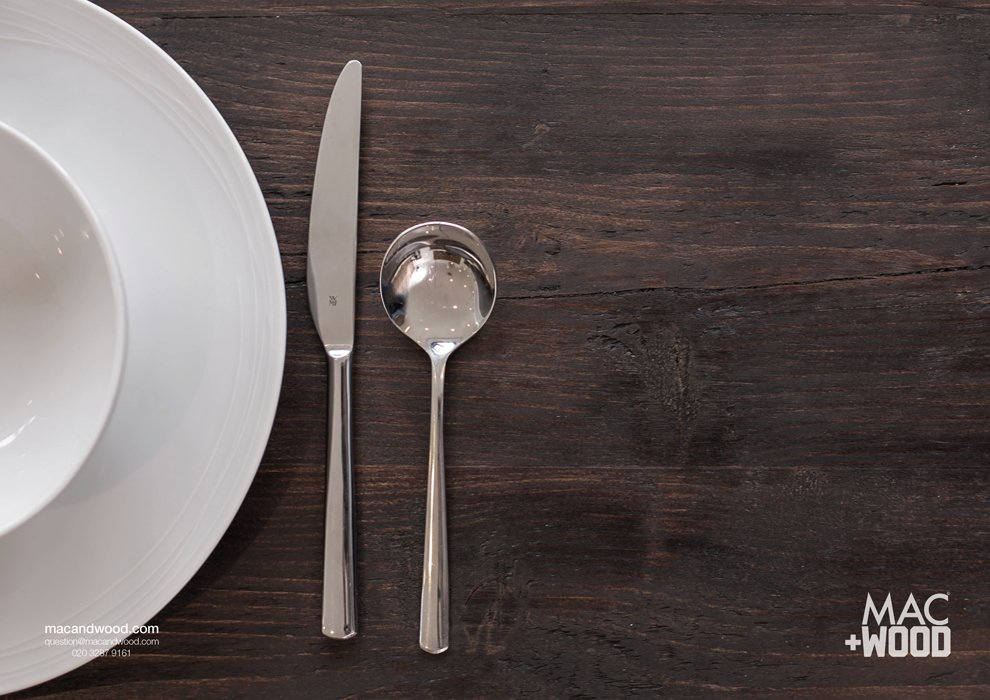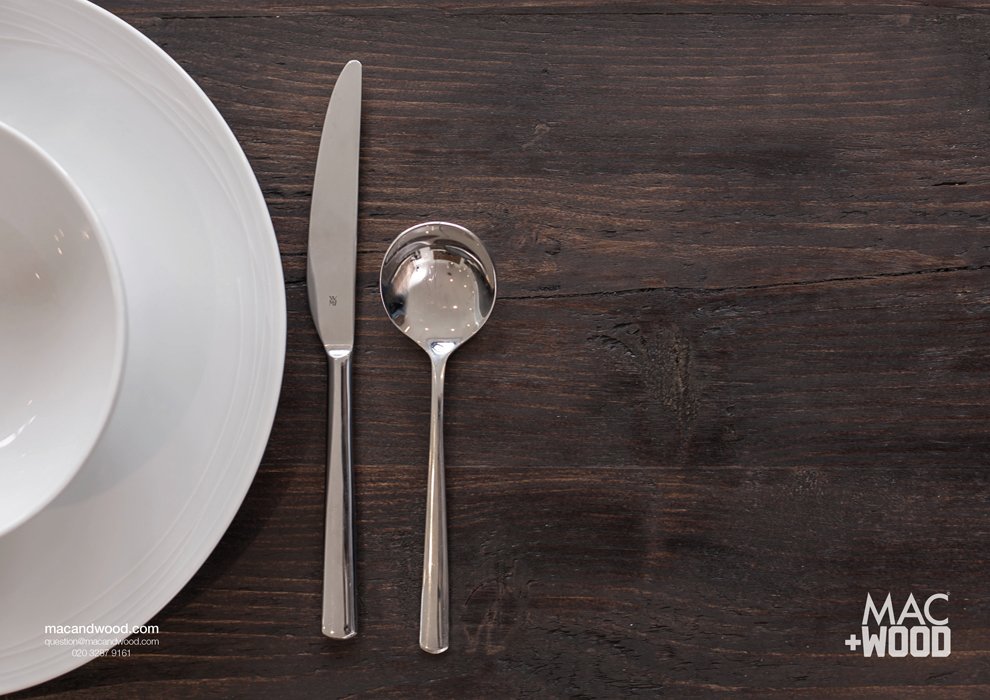 We strongly believe that reclaimed wood table tops inject character into your home thanks to the slightest imperfections unique to each piece.
The imperfections that make this material unique are also the colour range it offers. This is because the colour of wood can change over time. There are many reasons. Sometimes the wood will have had some kind of finish added to it. What you can be seeing is the finish in the wood aging. If you plane some of the wood off, the underlying timber can be similar to the colour it was 100 years ago.
Other timbers, however, naturally get darker with age. Cherry and maple are two such woods and this colouring can bring out the imperfections in the table top and make it look even more stunning.
Nicks and scratches are common imperfections. This may not be ideal for a workbench, but for a rustic farmhouse dining table, nicks and scratches add bags of character.
Good reasons to choose a reclaimed wood table top
One of the great benefits of choosing a reclaimed wood table top is that it can mean you can get hold of high quality wood (e.g. oak, rosewood, and walnut) for a lot less than it might otherwise cost. Even if the original item is in such a state of repair that you can only salvage the wood, it can still be worthwhile doing because it can save you money.
A lot of effort can go into making the modern retro look like the real thing, but there is always at least a slight tinge of it being fake. Reclaimed wood furniture is unmistakably genuine and is going to have character, and the signs of age can add significantly to the beauty of the piece. Creating a genuine historical look in your room is going to be much easier if you use items that have been reclaimed.
We think that reclaimed wood gives you the chance to create something truly unique. This is because a lot of pieces of furniture were created before mass production when each piece would look slightly different. It is also possible to make something that looks contemporary but uses recycled material, and you can end up with something that really looks special.
The Mac+Wood reclaimed wood table top is full of character and personality and, by using wood as your focal point, you can really help add a natural warmth to the room. Traditionally associated with the cosy kitchen, wood certainly doesn't have to just be associated with the 'rustic' country look.
We combine the properties of reclaimed wood with cutting edge design to create unique table tops that it can fit into even the most modern of rooms. The addition of a piece like ours can really help to soften the sharp edges of any glass or steel that you may have, to make your kitchen into an inviting and welcoming hub.
Our reclaimed wood tables don't require vast amounts of maintenance, they are practical, durable and easy to clean and also hard-wearing and of the finest quality, so you can relax with it as a long-term and enduring investment.
At Mac+Wood we fell in love with the endless possibilities of reclaimed wood table tops and believe you will too. It serves as a great raw material to start a design from and offers a unique take on what modern décor can be.
The making of our table tops
At Mac&Wood we start with the basics. The wood we use for our gorgeous reclaimed wood table tops goes through a very selective process before making the final cut and becoming part of the final product. During this step we aim for quality. We say quality and not perfection for a precise reason. The raw materials have no need to be perfect, especially when you deal with recycled timber. Each imperfection is a story to tell and finding the most interesting stories is part of our production process.
We think of the creation process as a journey and our customers are invited to join us. Each piece tells a story and we want to ensure your dining experience or work space tells one too.
Once the designs are approved, we move on the manufacturing of your product. The process is now in the hands of our expert artisans and it will take a few weeks, considering your table top will be handmade from scratch, it will be well worth the wait.
What can reclaimed wood be used for?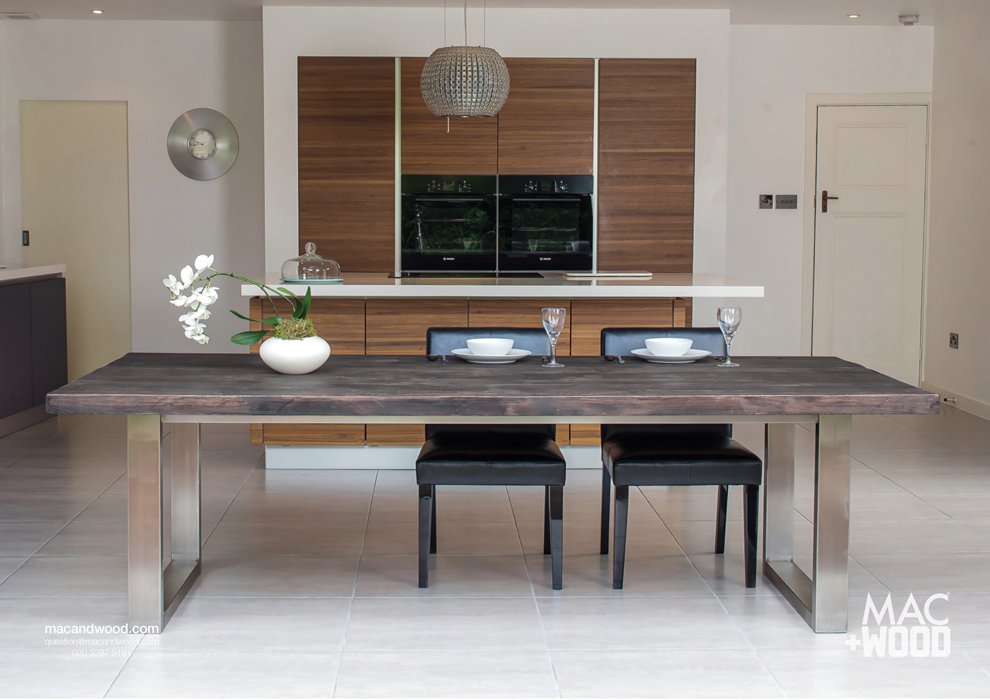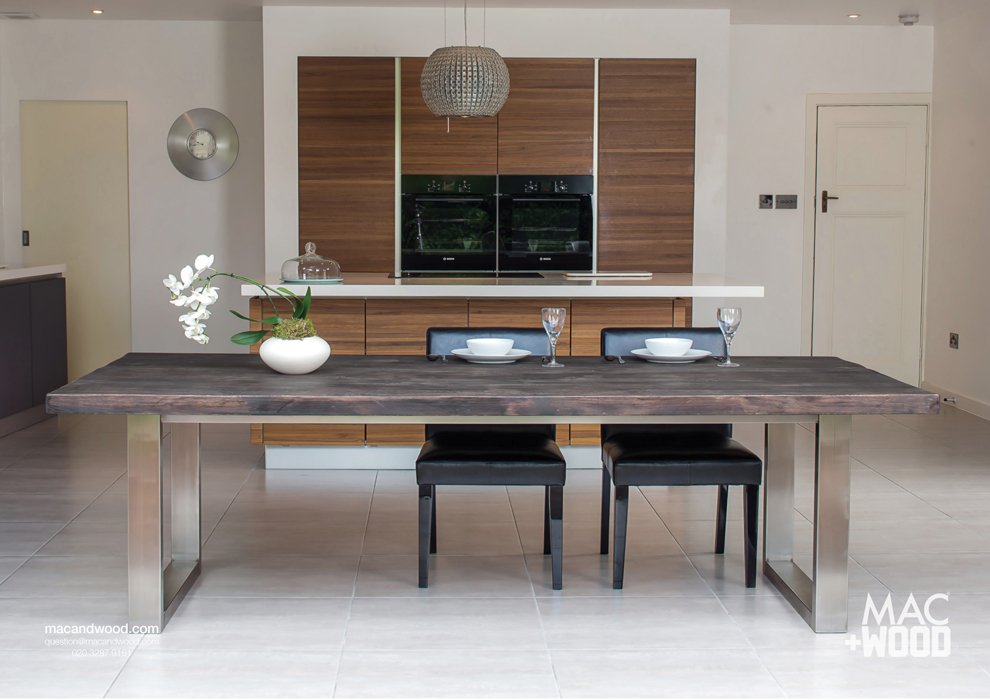 The first thing that springs to mind are whisky barrels. Scottish distilleries will often reuse wooden wine vats, frequently made from American oak. Great care is taken in choosing the correct barrels to ensure it adds something to the flavour of the finished article.
Reclaimed wood may be reused as flooring. A lot of the time people will reuse oak or hardwoods because they add character and are hard-wearing. That said, we once went into a trendy bar in London and were surprised to see old scaffold planks had been used as flooring!
Kitchen work surfaces can also be made from it. If you're going to go down this route, take care. These surfaces take a lot of punishment and wooden ones have to be looked after with regular sanding and oiling. They look amazing, but they can be high maintenance.
Old railway sleepers make excellent borders for flower beds or vegetable patches. A quick search online will reveal huge numbers of companies selling these items and it's no great surprise, they're versatile, long-lasting and are aesthetically pleasing.
We've saved the best until last. How about reusing some of Henry VIII's battleships as wood panelling? Wanting to expand his naval capabilities, Henry had some of the Whychwood Forest in the Cotswolds felled for the construction of ships. He insisted, however, that on decommissioning of the ships, the timber was to be returned to the area for the benefit of the local population and some of it lives on today as panelling on the walls of a local pub.
Reclaimed wood as a modern trend
We have seen it become more and more popular in the last few years, with fashions changing so rapidly it can be difficult to have table tops which go with everything.
Reclaimed wood is a beautiful way to bring life to your house and blend in with any design. From modern, rustic or bright and colourful any room can benefit from the joys of this stunning material.
While the wood itself is beautiful it also has other benefits such as being more environmentally friendly, by reusing materials we don't need to source new ones. In short, fewer trees are cut down which has obvious benefits to wildlife, ecosystems and their environment.
Not only are reclaimed wood tables ethical, the unique colour and style of the wood itself gives both a bespoke and homely feel to any room and will be the talking point of your house. The material stands up incredibly well to hard use and wear, and it doesn't negatively affect the finish of the wood at all. This makes it an ideal centrepiece for busy parties, family gatherings and quiet evenings in.
Save the World with It!
Mac&Wood along with a wide percentage of the population are concerned about the effects humans have on the environment, but reclaimed wood is a sustainable way to make your home beautiful. It means you are going to be doing your bit to protect the earth for future generations because no new trees need to be cut down on your behalf. It means that you will be using green products that are environmentally friendly.
Reclaimed wood is a worthy substitute for less sustainable materials and according to the Waste and Resources Action Program choosing reclaimed as opposed to virgin timber products in the home saves around 87% of carbon emissions, whilst chrome, plastic and other non-renewable materials have a far greater impact on the environment.
In addition, using recycled timber increases unregulated deforestation and decreases biodiversity as well as damaging local communities and negatively affecting the lives of people in some of the world's poorest countries. By choosing a reclaimed wood table top and reducing demand for new timber, anyone can contribute to solving the problems that come hand in hand with virgin timber.
Although it may seem like a small contribution to make, your choice could have an enormous impact in far-reaching ways and we would love you to join us on our quest to keep our planet alive.
5 facts you about Reclaimed Wood
As reclaimed wood is our lifeblood, you won't be surprised to hear we think it's a fascinating subject and we know quite a bit about it. We thought we share just a few facts about reclaimed timber.
In the United States, it is estimated that demolished buildings alone provide around one billion feet of reclaimed wood each year.
Re-using wood for the home uses around 13 times less energy than harvesting forests.
Many woods are kiln-treated prior to use. Recycled timber, which are often more than 100 years old, require much less treatment and so are use less energy.
The UK produces around 4.5m tonnes of waste wood a year, around 60 per cent of which is successfully reused in some form.
Huge demand is expected for waste wood in the future as bio-mass fuels become more popular.
As the above facts outline, furniture is simply one way to reuse wood. Recycling timber for what is often called 'green furniture' provides a fantastic way to kit out your home in a distinctive and stylish way that is also eco-friendly.
Make an enquiry or place your order for a reclaimed wood kitchen table
To place an order call us on 020 3773 1430 or use our simple form below.