The "Cross" design by Mac&Wood
The Cross frame table introduces a beautiful X frame design that makes the legs its defining feature and a must-have centrepiece, prices from £2,725.
Hand-crafted at the highest level of quality, this sleek design is a stunning addition to the Mac+Wood selection of table designs, bringing with it a departure from the conventional and an entire new X frame table look to match your reclaimed wood metal or Dekton surface. Ideal for long, trestle-style tables with a modern twist, this design would not be out of place in an office or stylish canteen, as well as your kitchen or dining room.  Solid, elegant, reclaimed wood, copper, zinc or Dekton surface, available all our finishes, X frame table leg design in brushed or stainless steel. Matching 'Cross frame' style benches to accompany table, sizes from 1.8m to 15m for up to 20 guests or more, bespoke options available on request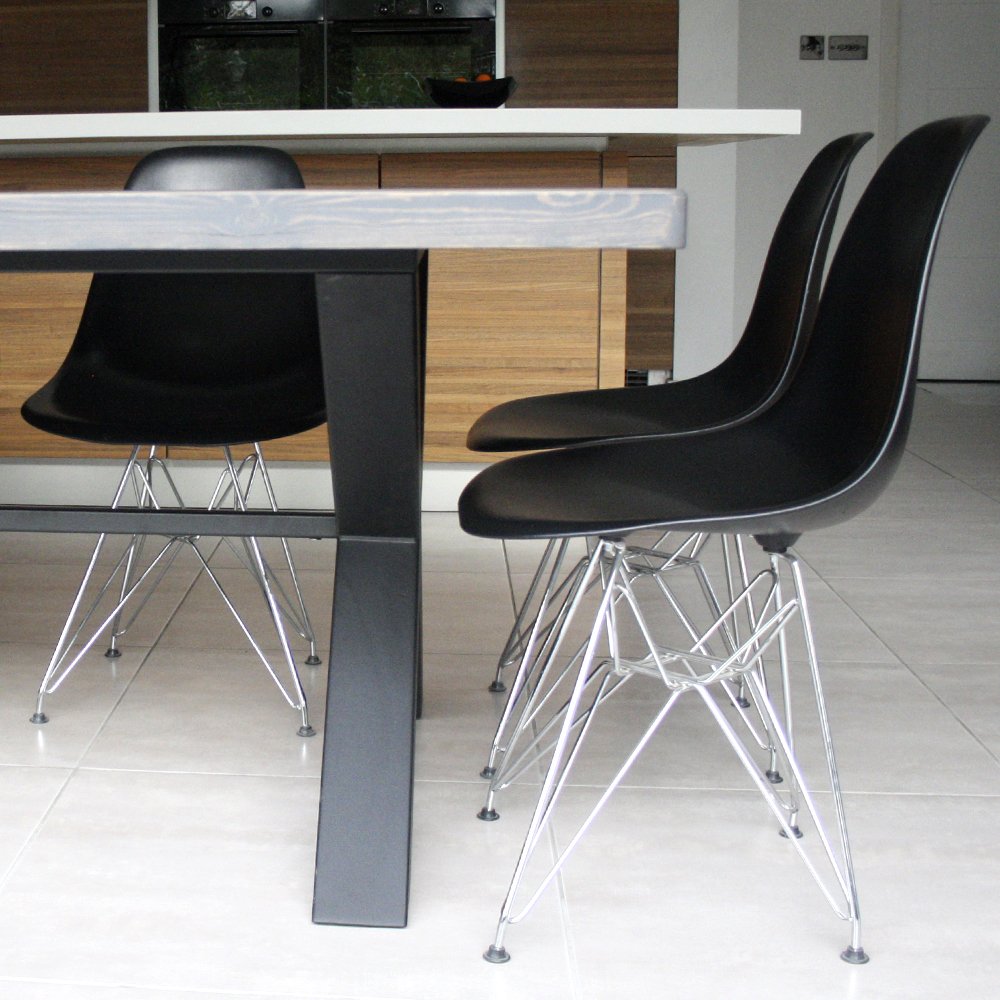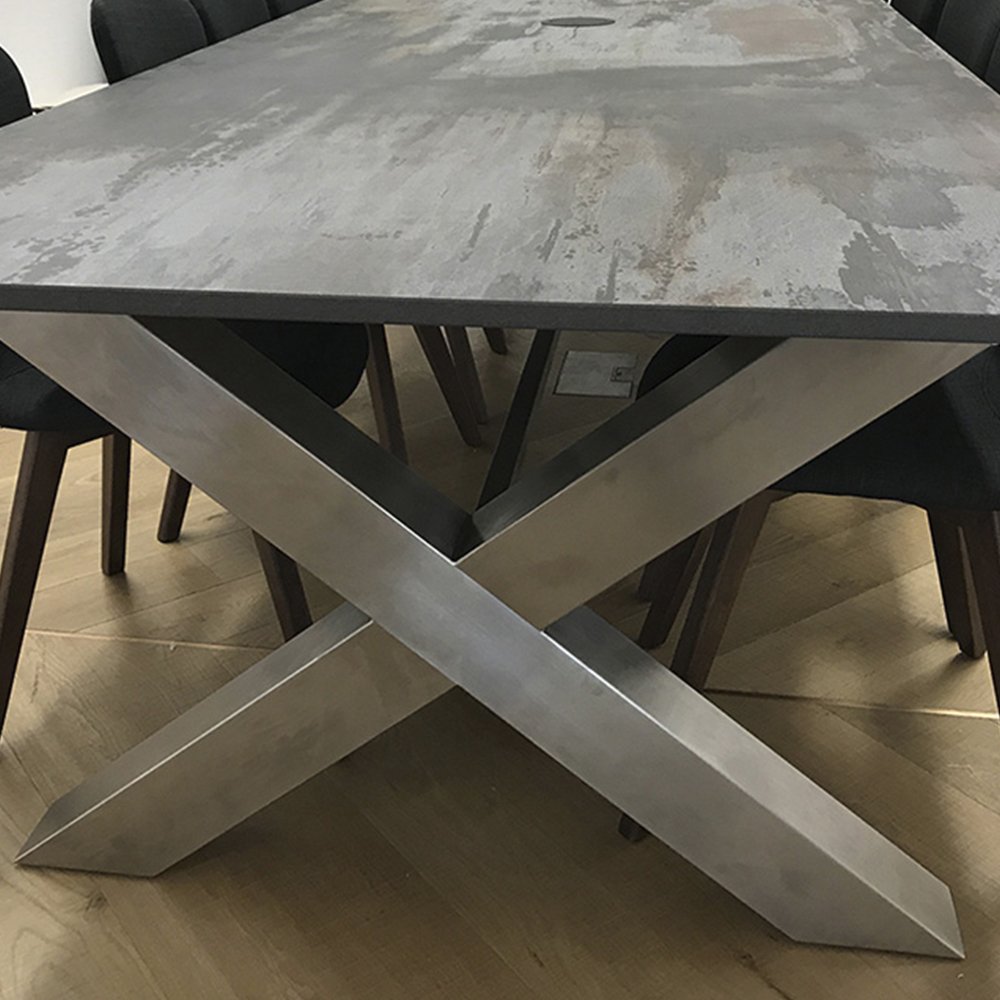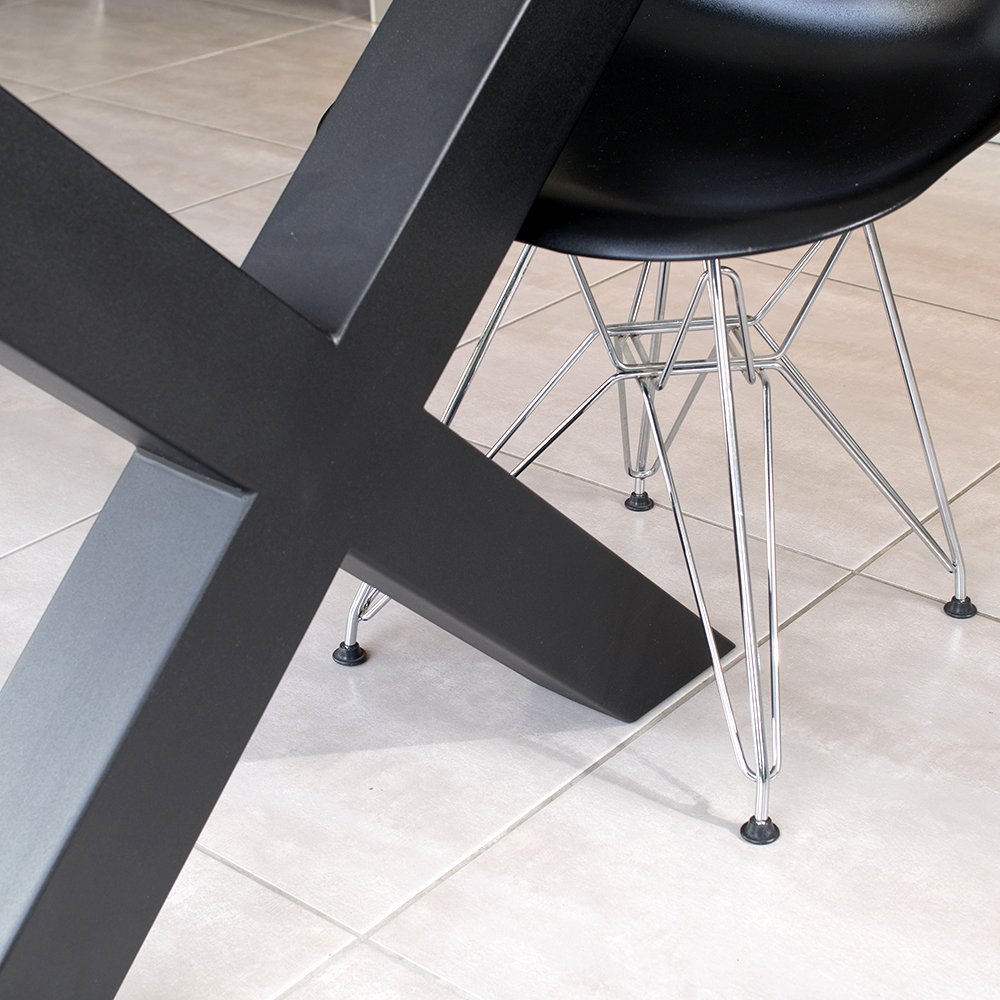 Start with the finish
Are you after something contemporary to complement your new kitchen?
Maybe you're looking for a table that matches your rustic cutlery?
All our furniture is handmade and can be produced in any of our available finishes and materials. Choose from our ranges of Reclaimed Wood, Character Oak, Wenge, Zebrano, Walnut and Ash or explore an alternative approach with our Copper, Zinc, Dekton and amazing natural and coloured Veneer options.
Discover more about our range of finishes by clicking here.
All our furniture is available in any of our finishes, to explore the options click here.
*Please note sample colours shown are representative only and final finishes may vary.
The right size for you and your guests
There is nothing worse than clashing elbows and underhand fighting for space at the kitchen table. Which is why each of our tables has been designed to ensure that every person sat around it gets the right amount of space and truly enjoys the experience.
Seating from 6 and up to 14, our reclaimed wood kitchen tables are perfect for family breakfasts, a dinner with friends, or a banquet where you really want to impress.
If you require a bespoke size please contact us using the enquiry form below.
| | | | | |
| --- | --- | --- | --- | --- |
| | Size (L x W) | Number of guest places | Reclaimed Price | Oak/Ash |
| 6+ | 200cm x 100cm | 6 to 8 guests | £3,078 | £3,350 |
| 8+ | 250cm x 100cm | 8 to 10 guests | £3,395 | £3,736 |
| 10+ | 285cm x 100cm | 10 to 12 guests | £3,760 | £4,195 |
| 12+ | 300cm x 110cm | 12 to 14 guests | £3,807 | £4,490 |
| 14+ | 320cm x 120cm | 14 or more guests | £4,579 | £5,208 |
For pricing in a finish not listed, or if you require a bespoke size, please contact us using the form below.
Use our form to enquire about our Cross frame table designs
To place an order call us on 020 3773 1430 or use our simple form below and we'll get right back to you