The "Sweep" design by Mac&Wood
The dramatically designed 'Sweep' table is available in all our materials and finishes at any size you require, prices from £2,640.
An evolution of our Signature design, the Mac+Wood "Sweep" has all the features of a modern table made for a style conscious owner looking to make an impression with a bold centrepiece.
A modern table with a twist, the "Sweep" design has angled legs pointing out to give a more off-kilter, but no less elegant look than it's predecessor, the "Signature" Table. The angles produce a slightly more laidback impression, perfect for a home or restaurant/bar and available in sizes to match both.
Durable and elegant, reclaimed wood, ash, oak, copper, zinc or Dekton surfaces, modern table look, with a striking, angled frame, sizes from 1.8m to 3m for up to 14 guest with bespoke options available on request.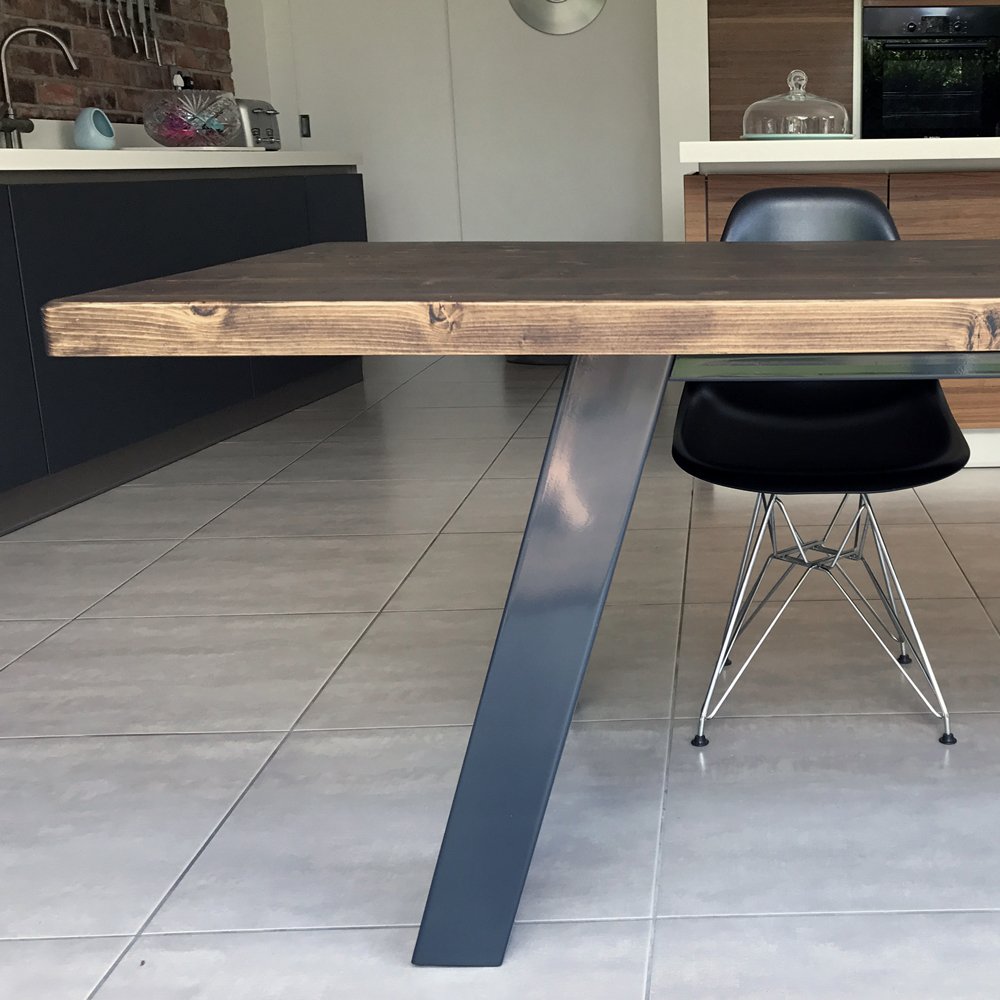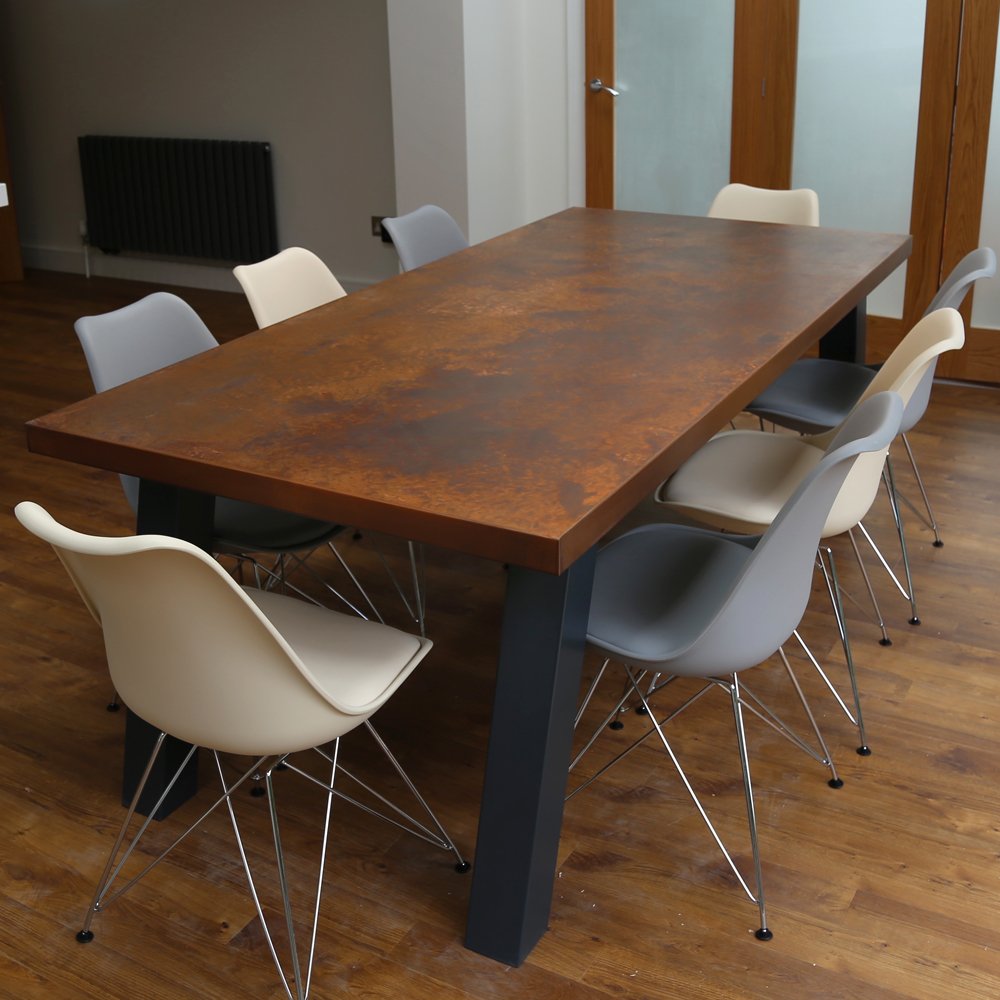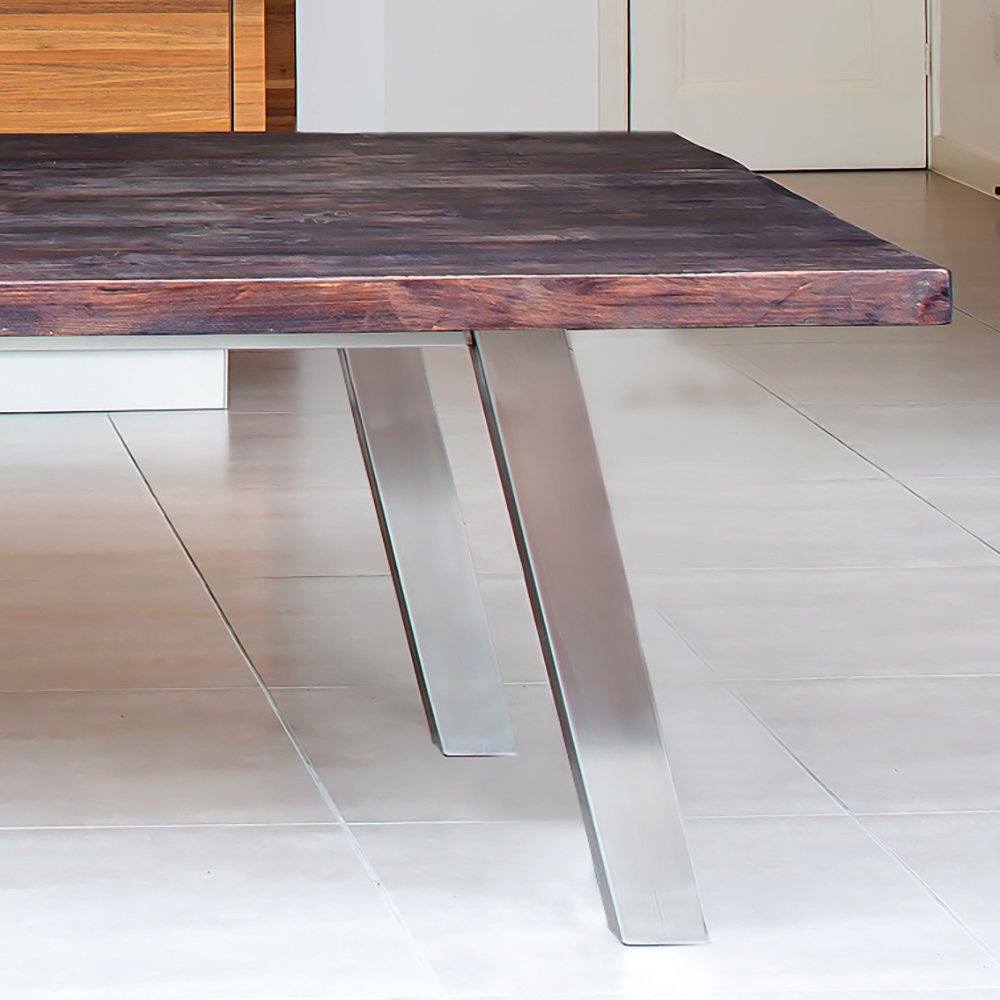 It's all in the finish
All our tables can be produced in any of our stunning finishes to fit perfectly into your dining space.
Our finishes have been chosen to suit a range of environments.
Need a table that works with your colour scheme?
Or did you want something that enhances your tiles and tableware?
Discover more about our range of finishes by clicking here.
All our furniture is available in any of our finishes, to explore the options click here.
*Please note sample colours shown are representative only and final finishes may vary.
Catering to every one of your guests
When you're entertaining, you want your guests to feel comfortable and perfectly at ease. The wrong table can mean that friends and family feel squashed and cramped, bumping in to each other while they're eating.
All our tables have been handmade to ensure that every individual gets the perfect amount of space at the table, with no exceptions.
Our tables, which seat from 6 to 14 people, are ideal for relaxed family meals, entertaining friends, and even dining with colleagues.
If you require a bespoke size please contact us using the enquiry form below.
| | | | | |
| --- | --- | --- | --- | --- |
| | Size (L x W) | Number of guest places | Reclaimed Price | Oak/Ash |
| 6+ | 180cm x 100cm | 6 to 8 guests | £2,640 | £2,930 |
| 8+ | 250cm x 100cm | 8 to 10 guests | £3,018 | £3,359 |
| 10+ | 285cm x 110cm | 10 to 12 guests | £3,594 | £4,073 |
| 12+ | 300cm x 110cm | 12 to 14 guests | £3,757 | £4,253 |
| 14+ | 350cm x 120cm | 14 or more guests | £4,341 | £5,201 |
For pricing in a finish not listed, or if you require a bespoke size, please contact us using the form below.
Make an enquiry or place your order for Sweep table
To place an order call us on 020 3773 1430 or use our simple form below and we'll get right back to you