The "Trunk" design by Mac&Wood
Our beautifully designed 'Trunk' dining tables are crafted to the very highest standards of furniture design and build, prices from £2,230.
Our 'trunk' dining table is a bold centrepiece born out of the need for a hard-wearing, family-friendly table that utilises the maximum amount of space around the table to comfortably accommodate your guests. Solid, elegant, reclaimed wood surface, available in 4 finishes (raw, brown, dark and grey), brushed stainless steel legs create a bold statement. Matching 'Trunk' style side and end benches available, sizes from 1.8m to 3m for up to 14 guests with bespoke options available on request.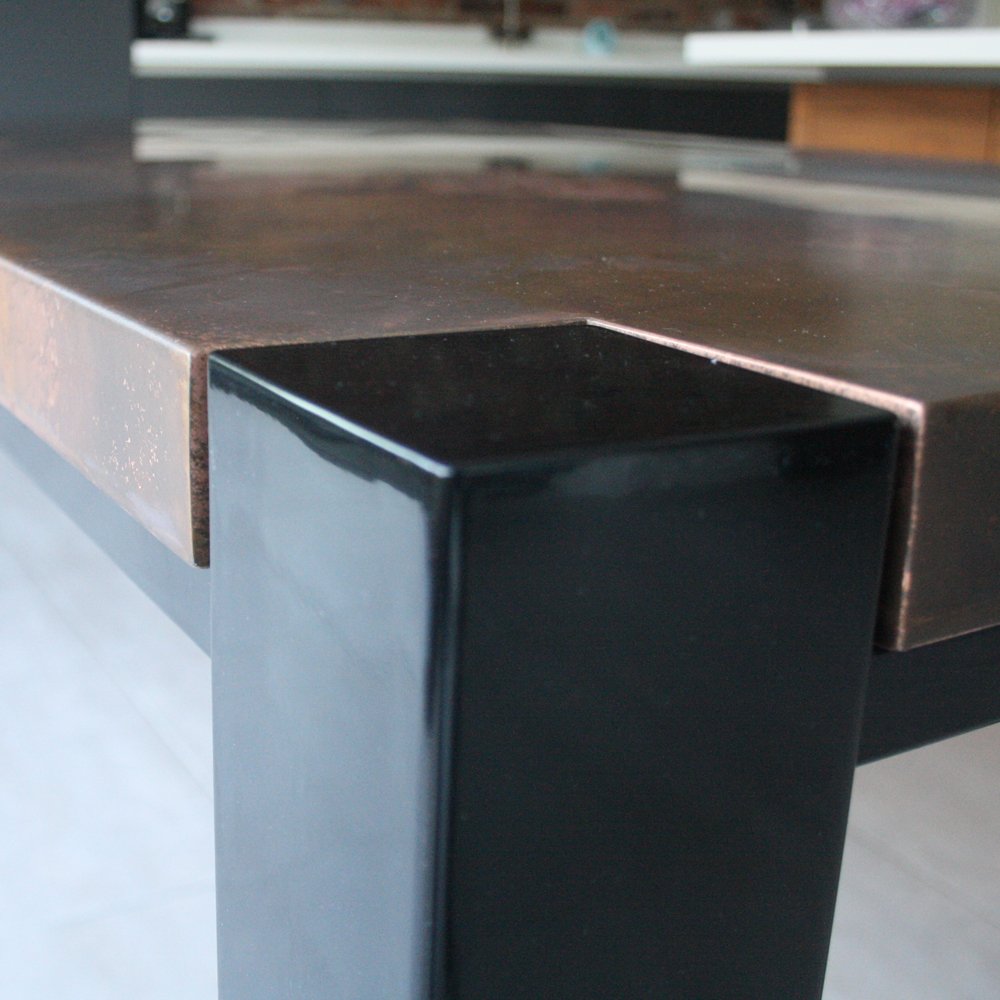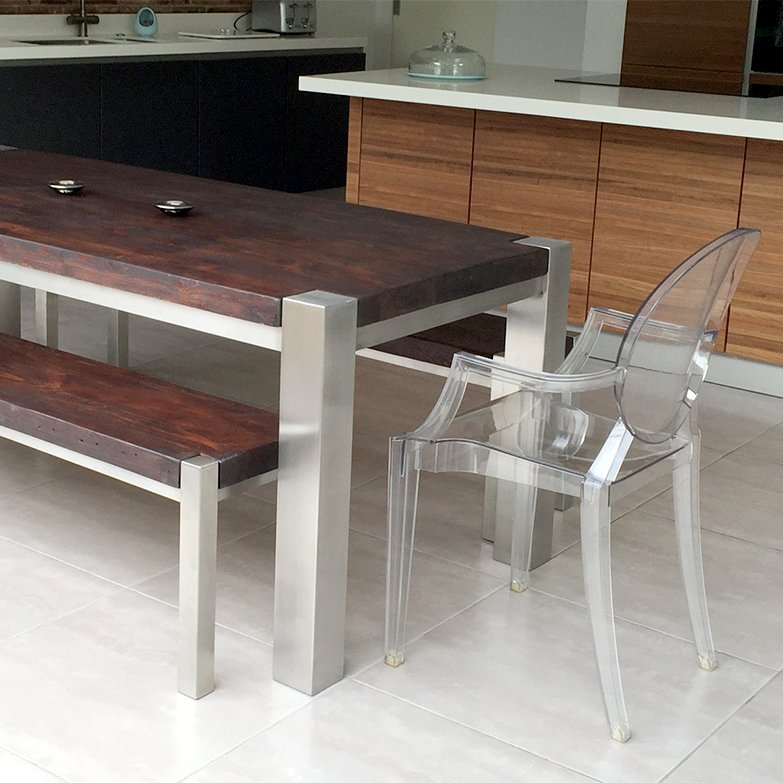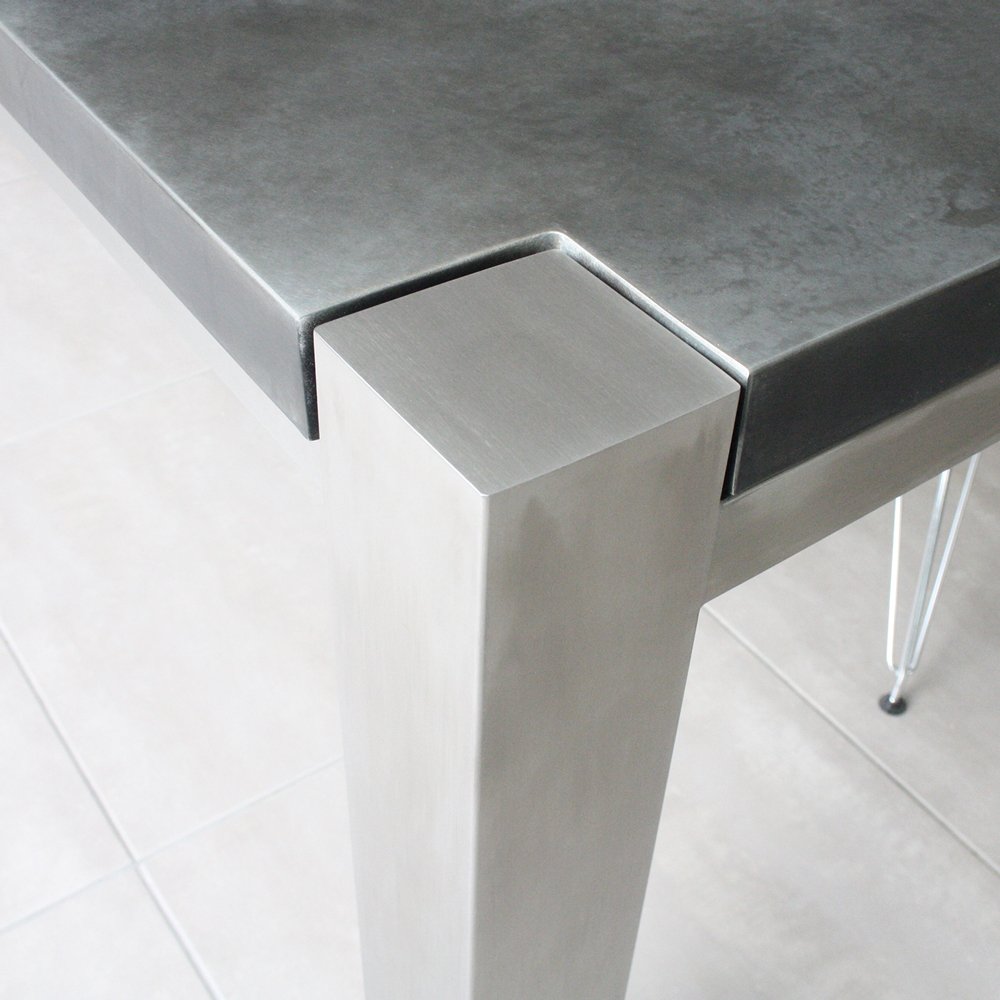 Start with the finish
Do you want your dining table to match your new paint scheme?
Or maybe you want something modern that really sets off your tableware?
Our tables come be made in any of our finishes available, all of which are sure to enhance your dining space.
Discover more about our range of finishes by clicking here.
All our furniture is available in any of our finishes, to explore the options click here.
*Please note sample colours shown are representative only and final finishes may vary.
The perfect size for entertaining
Your dining table should allow guests to eat in comfort, rather than bashing elbows and clashing cutlery. That's why all our tables are designed to guarantee that each guest enjoys plenty of space and comfort, regardless of the occasion.
Designed to seat any number from six to 14, our reclaimed wood dining tables are custom-made for laid-back breakfasts with the kids, dining with companions, or opulent banquets with business associates.
If you're looking for a custom-sized table, simply contact our team using the form below.
| | | | | |
| --- | --- | --- | --- | --- |
| | Size (L x W) | Number of guest places | Reclaimed Price | Oak/Ash |
| 6+ | 180cm x 100cm | 6 to 8 guests | £2,230 | £2,520 |
| 8+ | 210cm x 100cm | 8 to 10 guests | £2,350 | £2,685 |
| 10+ | 250cm x 100cm | 10 to 12 guests | £2,500 | £2,910 |
| 12+ | 300cm x 100cm | 12 to 14 guests | £2,820 | £3,345 |
| 14+ | 300cm x 120cm | 14 or more guests | £3,080 | £3,710 |
For pricing in a finish not listed, or if you require a bespoke size, please contact us using the form.
Make an enquiry or place your order for your very own Trunk table
To place an order call us on 020 3773 1430 or use our simple form below and we'll get right back to you