Great wood furniture design is at the heart of what we do. You might say we're aficionados. In today's blog, we continue our tribute to the greatest and most iconic wood furniture designs in modern history. These are the pieces that set the bar for design: they innovated the home, the office and, as you'll see below, even the shopping mall. These are the icons of wood furniture design – and we can't get enough of them.
The Nelson Platform Bench is timeless in mid-century furniture design. You could spot its practical, slatted shape a mile away. It's a visual representation of Modernist ideals – the unison of beauty and function – with pure-and-simple common sense built right in. Yes, we think it's beautiful, but its sparse design is made for serious business: it can multitask as seating, shelving, or a table in all sorts of environments.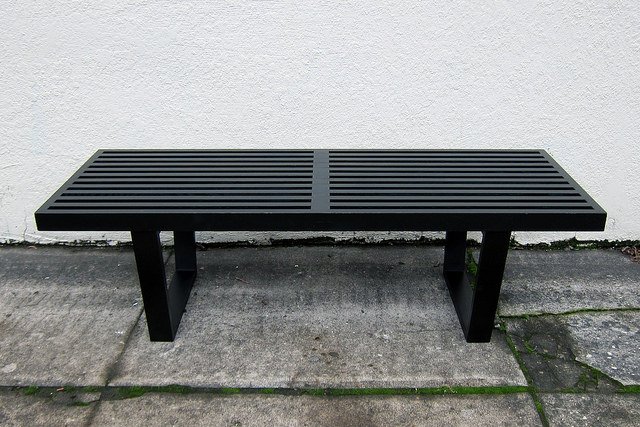 When you think of a public space, picture the seating. We're prepared to bet all our sandwiches that the slotted outline of the Nelson Platform Bench leaps to mind. But where did this unassuming, hard-working, yet ubiquitous bit of furnishing come from?
Who's George Nelson?
Probably one of the most innovative voices of the 20th century. The modernist post-war design world he helped to build was a sharp departure from the folksy Arts & Crafts movement preceding him. According to Nelson, his ideas came to him in "zaps", shining a light of innovation upon his imagination as strong and instant as lightning. Nelson wrote several design books which are still gospel for many today: Tomorrow's House, Problems of Design, and the 1977 classic How to See: Visual Adventures in a World God Never Made.
When did the bench come about?
Nelson designed the Platform Bench in 1945. He had his "zap" for the bench at a time when the country was just starting to support the idea of design as a worthwhile venture: supplies were no longer strictly rationed so factories began to produce non-essentials. But since the new post-war middle class still valued economy and efficiency as they moved toward suburban living, the cultural climate of America at that moment was perfectly poised to embrace Nelson's sleek new design – whether folks were ready for it or not.
So it's more about performing well than looking good? Sounds a bit austere.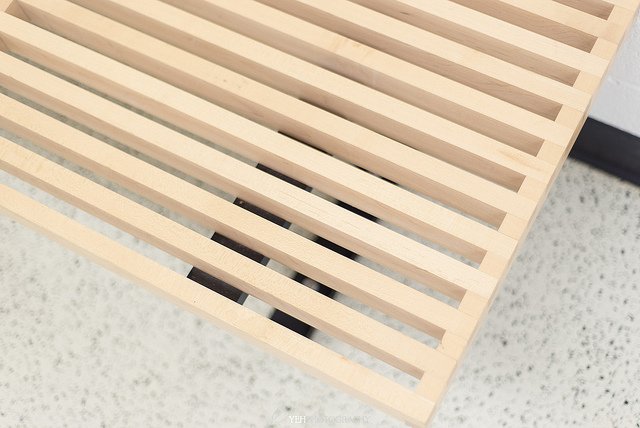 Nelson's design was functional, yes, but the beauty was in the functionality itself. This is one of the most well put-together benches you'll ever sit on, and one where the designer paid close attention to the details. Case in point: Nelson originally drafted the Platform Bench as a seating solution for guests at his Fortune Magazine office. He used slats made of birch rather than solid panels, both to save on materials as well as to discourage guests from overstaying their welcome. Where he could have used steel, he used beautiful, traditional maple. It served the modernist aesthetic well because of its strength and its ability to be milled into a clean, flat line. Fun fact, the serious and svelte bench was also designed to serve as a platform for supporting modular storage cubes.
Is it still popular today?
My word, yes. You'll see the Nelson Platform Bench (as well as many lower quality imitations) residing casually in a plethora of locations today – in malls, public parks, and homes. Its timeless design has become so ingrained in our everyday lives that it often goes unnoticed. But if you stumble upon one of Nelson's original benches, it could earn you more than just points with your furniture-loving friends. Thanks to Nelson's visionary design, the Platform Bench is as much a treasured piece in family homes as it is a hallmark of shared public space around the world.