There's nothing more life-affirming than a wood shop in action. We love it, the smell of sawdust, the clunks of timber being worked on. Step inside the workshops of five men who changed the face of modern woodworking forever – and tell us you wouldn't love a private tour of each of them.
George Nakashima: New Hope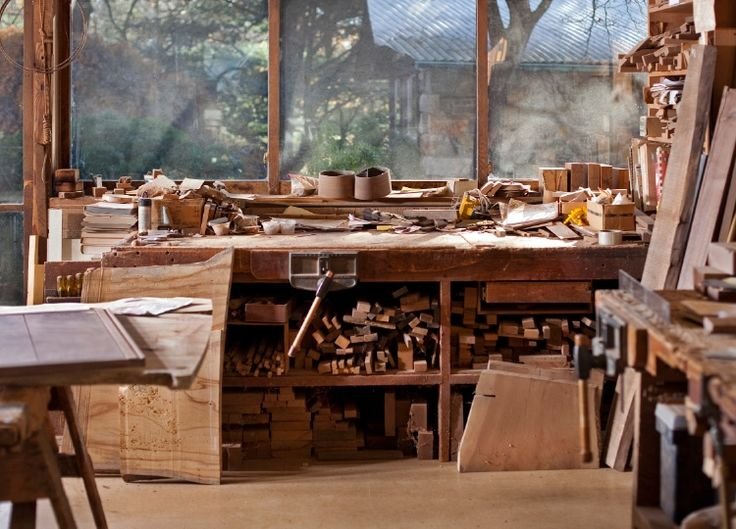 George Nakashima learned traditional Japanese joinery and hand tool work while in the confines of a Japanese internment camp in 1942. With the help of architect Antonin Raymond, he settled a year later in the aptly named New Hope, PA and built a compound of workshops which is now a National Historic Landmark.
Nakashima's distinctly meditative process expressed a respect for each tree used on its journey to a new life. Today, a crew led by his daughter Mira continues Nakamara's tradition of soulfully handcrafted work at the original workshop.
"There is little chance that peace can be achieved politically," said Nakashima. It was his dream to create peace symbolically with his massive live-edge slab Peace Altars which are still being installed at spiritual centres around the world.
Hans Wegner: Serious Play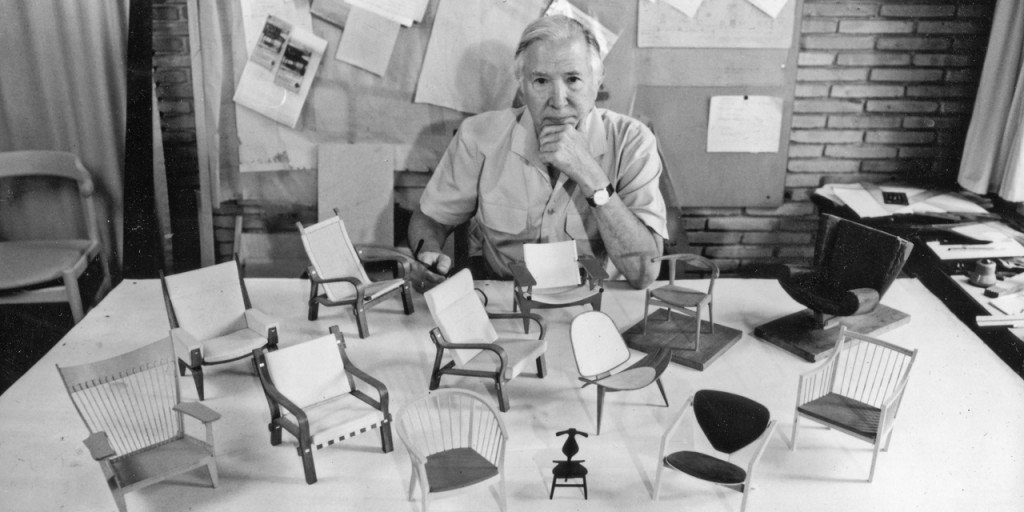 "We must play—but we must play seriously." Hans Wegner
A walk through Wegner's workshop at his creative peak would have revealed an overwhelming array of tiny chair prototypes in various stages of realization. A master of traditional methods of joinery such as finger joints and mortise and tenon joints, Wegner also stressed a loose, creative approach.
His time in the studio involved a lot of experimentation by means of physically manipulating the wood, creating new shapes informed by their materials. Continually engaged in perfecting, simplifying, then re-perfecting chairs, he's responsible for over 500 unique chair designs.
Wendell Castle: Robot-Assisted Art Furniture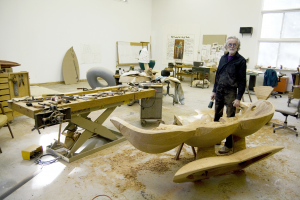 "A computer really has a mind of its own. It wants to make really smooth curves. I don't want those kind of curves, so the only way I can keep that from happening is to scan my physical models." Wendell Castle
Castle's innovations began the art furniture movement as we know it, combining organic materials with resins into refined sculptural forms which, he insists, are still furniture. In the early 1960s he pioneered the "stacked lamination" technique of gluing layers of wood together, then carving it to create new possibilities for wooden forms.
He continues his work today in his upstate New York studio using a robot-assisted version of his original process. From Castle's original sketch, a foam model is laser scanned. A large robot with a reach of 12 feet prints out 3D guides from the programmed "tool path" with which it cuts layers of wood to be stacked and glued, then hand-finished.
Wharton Esherick: Standing on Shape Alone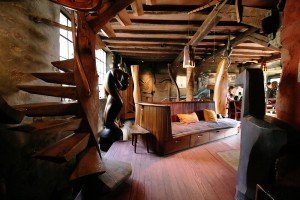 Wharton's lyrically curving workshop is now a museum in rural Pennsylvania. Built in 1926, it's full of natural shapes typical of the Arts and Crafts Movement, of which Wharton became a leader soon after WWII. He famously did away with excess surface decoration in his furniture, stating that "like sculpture, it should stand on shape alone."
His most beloved tool was an axe, and the upper floor of his shop was once covered in packed earth to keep him from slipping while he swung his whole weight into creating these works. In 1956, he designed a new workshop in collaboration with his architect friend Louis Kahn. Wharton had to put his own stamp on the design by adding a slight curve to each of Khan's proposed straight walls.
Henry O. Studley: His Mysterious Masterwork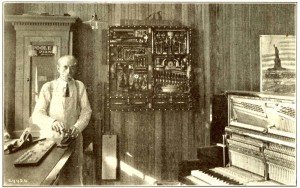 Piano maker Henry O. Studley's crowning achievements were his awe-inspiringly intricate Studley Tool Chest and workbench. Historians guess that since there was no sign of a workshop in his home, he must have built these marvels in the Poole Piano factory where he honed his skills from 1898-1919.
He inlaid mother of pearl, ivory, and ebony details into the cabinet (likely salvaged factory scraps), as well as symbols of his Masonic studies. The pieces are still the subject of much speculation and have been exhibited at the Smithsonian.
"He was the possessor of a set of tools that was the envy of his co-workers, all of them made by himself by hand and some of them beautifully inlaid with pearl and ivory, and which were always proudly exhibited by Mr. Studley to those who showed an interest." from Henry Studley's obituary.